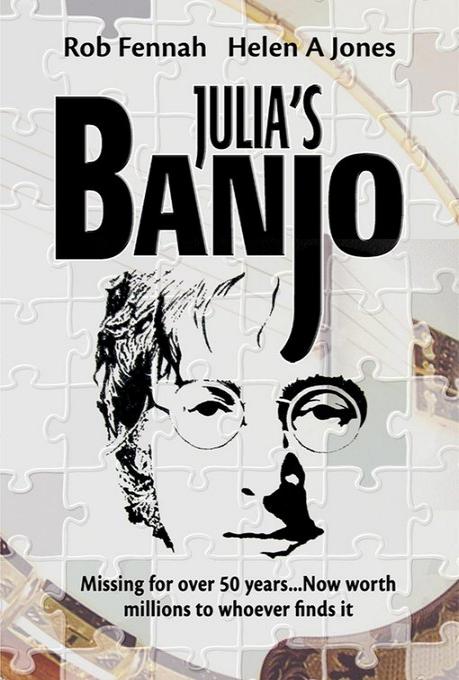 Authors: Rob Fennah and Helen A. Jones
Published by: Pulse Records Ltd
ISBN: 13 978-14793-9298-8
To come straight to the point: This is the most fun and enjoyable Beatles-related book I have read in years. By far!
Julia's Banjo was written by authors Rob Fennah and Helen A. Jones. It is a fun novel about what could have happened to the banjo which is described as the Holy Grail of pop memorabilia. According to the authors the instrument is the catalyst that changed the world of popular music for ever. And they might be right. The idea about writing a book about the banjo came to Fennah when he attended a Beatles Convention and spoke to a dealer who said that it had been missing for over 50 years. He wondered if the banjo would still be out there somewhere. An interesting idea for a novel.
The story: When Beatles tour guide Barry Seddon finds a letter written by John Lennon he unearths a clue to solving the greatest mystery in pop music. What exactly is this mystery? Well, it's the banjo John's mother Julia taught him to play when he was a young boy, and which has been missing for over forty years. So the Liverpudlian tour guide, but also two brothers who own a Beatles shop in Liverpool, a beautiful Southern Belle and a shady business both from Texas and the landlady of a pub, all play major roles in the search of Julia's banjo. But where exactly is it? All Barry has is a letter full of cryptic clues about where it has been hid by John all those years ago. Who will be the first to find it? And more what will happen to it once it has been found? Will it be shipped off to the US, will it be bought by some rich collector and locked away for ever, or will it stay in Liverpool, where at least Barry thinks it belongs? All will be revealed at the end of the book, and without giving away the answer I can tell you that the banjo will eventually end up in the hands of someone unexpected but who deserves to own it more than anyone else.
This is a book that is difficult to put down, simply because it is well written and of course because you want to know if the banjo is found and by who. A Beatles treasure hunt through the city of Liverpool. This would make an excellent script for a film. I would recommend it to any Beatles fan out there.
For more about this book, also see our 'articles' section.
Gabriëlla van Karsbergen.