Sgt Pepper's Vinyl Jukebox
In 1967 the Beatles released the hit album Sgt Pepper's Lonely Hearts Club Band. Fifty years on and the LP's immense critical and cultural success ensures it remains a true classic with its influence still felt across genres and decades.Now, Sound Leisure introduces our own tribute to this most iconic of albums with the Sgt. Pepper's Lonely Hearts Club Band Vinyl Jukebox. The jukebox is officially endorsed by Apple Corps Limited and designed and built by Sound Leisure Ltd under exclusive licence.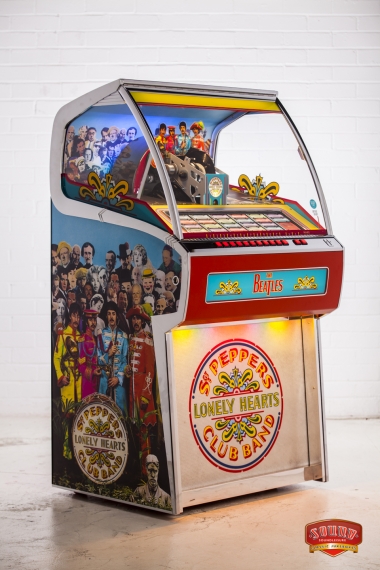 The jukebox cabinet features durable printed
artwork from the iconic Sgt. Pepper's album
cover which is also referenced inside the
cabinet, wrapping around the Vinyl Mechanism
and standing atop it to create a visually enticing
3D effect. The custom speaker cloth features
the famous drum skin design and side glasses
are screen printed with the Sgt.Pepper's florets.
Sound Leisure's unique Vinyl Mechanism is the
only vinyl jukebox mechanism being
manufactured anywhere in the world.
It holds seventy 7" records giving the user the
option to select the A or B side (140 selections).
Sit back and watch as the psychedelic swirls
spin to life alongside The Beatles in all their
Sgt. Peppers uniformed splendour.
The revolving title rack allows easy access to
your favourite records and Sound Leisure's
Label Magic software gives you a quick and
easy way to create and print your own jukebox
labels. Track selections can be made directly
from the jukebox button bank or via the infra-red
remote control which also offers control of the
volume, reject, shuffle mode and lighting
controls.
The Sgt. Pepper's Jukebox also incorporates
Sound Leisure's Bluetooth receiver giving you
the ability to stream digital music from any compatible device. A great sound is provided from needle to ear via the five way in built speaker system and D4 amplifier which also features an auxiliary input, outputs and connections for additional speakers.
We are very proud to introduce to you The Sgt. Pepper's Lonely Hearts Club Band Vinyl Jukebox. This very special jukebox is a dream come true for any Beatles fan, and it sounds just as good as it looks!
IMPORTANT NOTE: This product is custom built to order. This may affect your rights as a consumer. Please consult our Terms and Conditions for more information and go to our website: https://soundleisure.com/classic-jukeboxes/jukeboxes/sgt-peppers-vinyl-jukebox
TECHNICAL SPECIFICATIONS

Manufactured under licence: (c) 2017 Apple Corp Limitied. A Beatles TM product and
70 x 7" vinyl record rotating jukebox mechanism. (140 selections - A/B sides)
D4 amplifier : 2 x independent stereo channel outputs, 60W RMS per channel.
2 x mid / 2 x tweeter and 1 x 12" Twin cone bass speaker
Remote control for home use - record selection / shuffle play / aux input / volume / reject record
140 selection rotating title display.
(printed using Sound Leisure's Label Magic software - 12 months subscription fee included)
Aux input (phono)
Aux output (phono)
Microphone input
Bluetooth connection as standard
DIMENSIONS
Height: 1410mm
Width: 780mm
Depth: 700mm
Weight: 120KG
PRICE
£8,995.00