Yes we were there! Read and see all about our personal experience in our 'News/BI' section.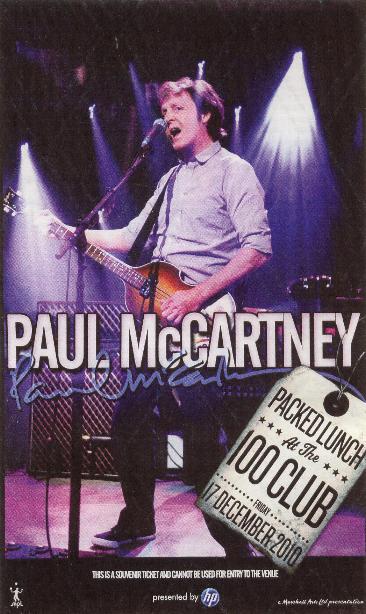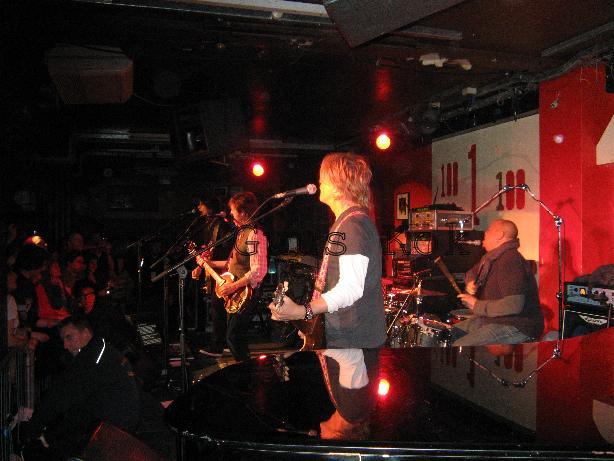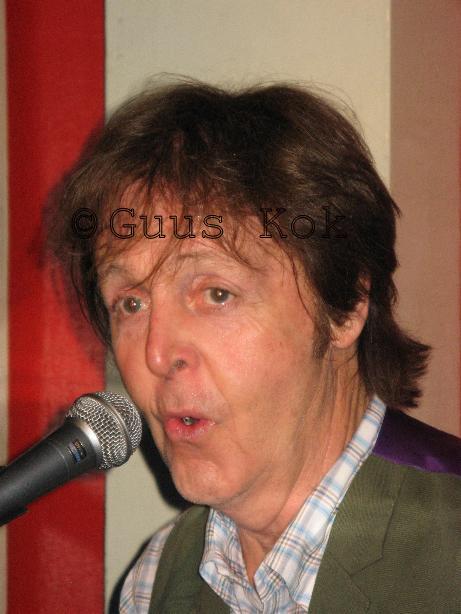 The concert was announced as being the event of the century, the fans of Paul McCartney were not disappointed. Paul had not played at such an intimate gig since 1999 when he had performed at the Cavern Club in Liverpool.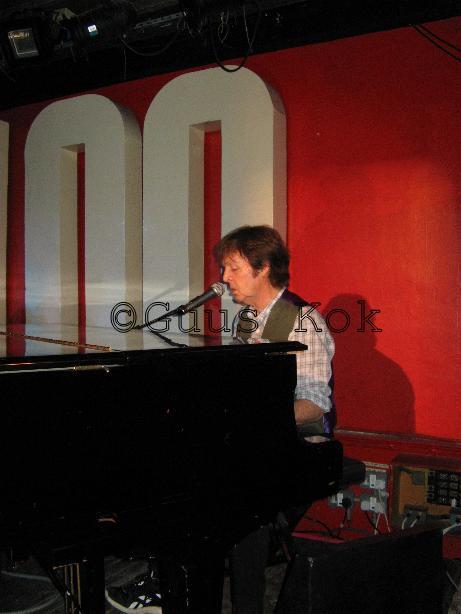 The event in the
100 Club
was announced only two days before the show, and the few 350 tickets were sold out in mere seconds. Oxford street was blocked by the fortunate fans from 10 am this Friday December 17.
The tiny 100 Club in London, which is threatened with closure, welcomes only 350 people.
Contrary to his big shows, Paul McCartney was more relaxed and did not hesitate to talk with the audience. There were a few surprises in this very special gig. Paul started the show with Matchbox and he returned to 'the old days' with "One after 909" but also a nice version of "Don' t Let the Sun Catch Your Crying", a song he used to do in Hamburg with the Beatles – when he was without his guitar.
He performed (as in former soundchecks) the song "Petrushka" and, like at the Apollo a couple of days before, he did "Hitch Hike" as a tribute to Marvin Gaye.
The show was really intimate. Contact between group and fans was unique.
See a lot of impressions on YouTube, search key
"Paul at the 100 Club".

http://www.youtube.com/watch?v=uPsmPrtdpLE&feature=related
Yes BI was there! Check out

http://www.youtube.com/watch?v=XoIO_zry5WU&feature=related
 or
http://www.telegraph.co.uk/culture/culturevideo/musicvideo/8210565/Lucky-McCartney-fans-queue-for-100-Club-gig.html
This was the complete setlist!
Matchbox                             http://www.youtube.com/watch?v=qsMiB6oNL78&feature=related
Magical Mystery Tour            http://www.youtube.com/watch?v=ot0OSmc9emg
Jet                                         http://www.youtube.com/watch?v=xbdV_F8e8lA
Drive My Car                         http://www.youtube.com/watch?v=_KuSmqgY7iU&feature=related
All My Loving                         http://www.youtube.com/watch?v=H5VSrnPVKfY&feature=more_related
One After 909                      http://www.youtube.com/watch?v=U9oBjJq9y3o&feature=related
Honey Hush
Let Me Roll It/
Foxy Lady                              http://www.youtube.com/watch?v=7HEXy80DAVU&feature=related
The Long and Winding Road http://www.youtube.com/watch?v=l5oFn2NRiI0&feature=more_related
1985                                      http://www.youtube.com/watch?v=jPwSjPyoGvg&feature=related
Maybe I'm Amazed
Don't let the Sun Catch You Crying
Blackbird                               http://www.youtube.com/watch?v=UJGYflVO_xE or 
                                              http://www.youtube.com/watch?v=nDjx-lfVU9Y&feature=related
Calico Skies
I'm Looking Through You
And I love Her                        http://www.youtube.com/watch?v=aNqxRsKGO7c&feature=related 
Dance Tonight
Eleanor Rigby                        http://www.youtube.com/watch?v=0J7cUVtBPJA&feature=related
Hitch hike
Band On The Run                 http://www.youtube.com/watch?v=TktXYOZQVHM&feature=related
Ob-la-di Ob-la-da
Let It Be                                 http://www.youtube.com/watch?v=V_AjR7tnjVA&feature=related
Hey Jude                               http://www.youtube.com/watch?v=JCe3dJzznlo&feature=related
Yesterday                              http://www.youtube.com/watch?v=bQwTUgmZ_HU&feature=related
Get Back                                http://www.youtube.com/watch?v=WC7hPAZq6_Q&feature=related
Sgt Pepper's Lonely Hearts Club Band II/The End 
                                              http://www.youtube.com/watch?v=WxiPxKZyP60&feature=related