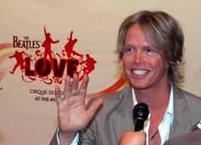 Being a guitarist in Paul McCartney's band is probably every musician's ultimate dream. Californian guitarist/bass player saw this dream come true. He joined the band in 2002 and hasn't looked back since. From playing at Moscow's Red Square to Paul's homecoming gig at Anfield and on top of the marquee of the Ed Sullivan Theater for the Letterman show, Brian Ray is still enjoying every minute of his life on the road and in the studio with Macca.
Jimi Hendrix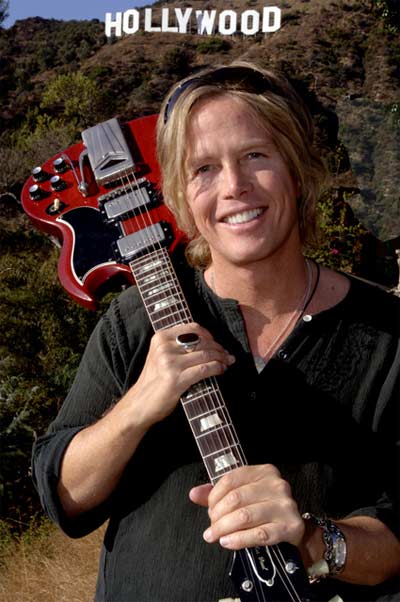 Brian is a California native who learned the tricks of the trade at a very early age from his sister, folksinger Jean, who was one half of the duo Jim&Jean, and his older brother. It was actually he who taught Brian some guitar chords and after some weeks it became clear that Brian was much better at playing the instrument than his brother.
Brian: 'Jim&Jean weren't really big but they did some national tours opening for the Beach Boys and several others. And they toured the club circuit for years.' It was during one of the Jim&Jean shows that Brian made his live debut at the age of 16 at The Troubadour in Los Angeles. His sister Jean also took along him to the Hollywoord Bowl to check out this new and exciting guitar player. 'One night my sister said I'm going to the Hollywood Bowl tonight 'cause there's this new guitar player and I want you to hear him. Would you like to come?', Brian says. 'I said sure, what's his name? And she says "Jimi Hendrix". I'll never forget it, he was opening for the Mama's&Papa's, played with his teeth, hugged his guitar and then he lit it on fire. I was so blown away. That night it all came together for me.'
Etta James
Over the years, Brian has worked with many of (rock) music's great names. One of them was Blues, R&B and Soul singer Etta James. When he was working with his second professional band Brian met a guy called Phil Kaufman, who was the road manager for Etta James.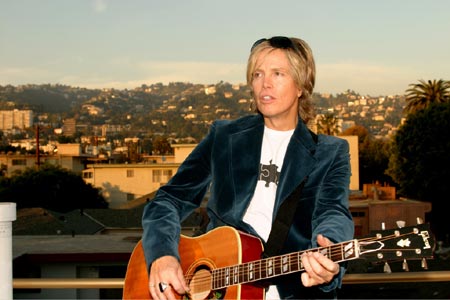 Brian: 'One night he said to me that he was going to Etta's rehearsal in the morning and the guitar player can't make it, would you like to come along and sit in for him? And I said "hell, yeah" and I went to the rehearsal, which was at John Densmore's (drummer of the Doors) house. We did the rehearsal and she ended up saying, "I like that little white boy".' The next thing he knew Brian was in her band and ended up staying with her for the next 14 years. When asked about some of his biggest achievements so far Brian mentions going to Europe for the first time, at the age of 19, to play at the Montreux festival in Switzerland, and being in a band with big names like John Paul Jones and Rick Wakeman. 'I was in this all-star band, playing with an idol, and we were rehearsing and suddenly Jimmy Page walked in. He took me aside and played my guitar and Jimmy told me he thought he knew me from a past life. And then they asked me to come to dinner with them. I think that was a big achievement. And other one was touring with Etta James and opening for the Rolling Stones in 1978 and 1979.'
'Lost In France'
As of 1996, Brian was 'lost in France' so to say, for about five years, playing with big French artists like Mylene Farmer and Johnny Hallyday. How did that come about?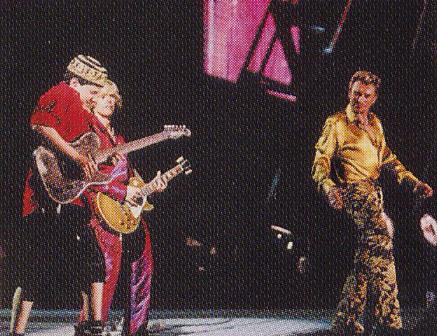 Brian: 'A French guy called Philippe, who lives in California and who serves as a liaison between French artists and American musicians, came to one of my shows and asked me if I were interested in auditioning for Mylene Farmer. I got the audition and also on that job, the drummer who got the audition, was Abe Laboriel Jr.' In 1998, after finishing working with Mylene Farmer, both Brian and Abe auditioned for French Rock 'n' Roll legend Johnny Hallyday.
Brian: 'I just love Johnny. He's a very sweet guy. I've done a couple of records with him. He and I have a very good relationship and I really like him and respect him.' Johnny Hallyday is at the top of his game in France since the early 1960's and he has the image of being this really cool guy who is not easily impressed.
Brian: 'He really is that cool.' When touring, Hallyday always includes several covers of well-known rocksongs in his set list. One of them being Got To Get You Into My Life. Being contemporaries, you might expect that sometime during their careers, Johnny Hallyday and Paul McCartney, could have met. And according to Brian, they actually have.
'Paul and Johnny met back in 1966 or 1967.'
Abe Laboriel Jr. left Johnny Hallyday's band for a job with US singer k.d. lang. Then one day Brian got a call from Abe saying that he was doing Paul McCartney's new record.
'I was totally blown away,' says Brian. 'Abe was at my birthday party and I asked him who's gonna play bass in the band when Paul plays guitar and who's gonna play guitar when Paul plays bass? And Abe said that they were looking for someone and I literally put my right hand up in the air and said that I would like a shot at that.'
A week or two later Brian got a call from 'Driving Rain' producer David Kahne to come to his office. Brian and David talked a bit and Brian played some guitar and promised to put his name forward. The next day Brian got another call asking his him of he could be on a plane to New Orleans the next day to play with Paul McCartney on the Super Bowl 2002.
'And that was basically the audition,' Brian says. And since he was not working with Johnny Hallyday, having finished touring with him in 2001, Brian was free to embark on yet another musical adventure.
New album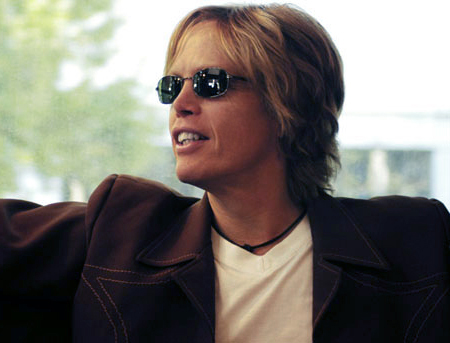 At the moment Brian is busy working on his new studio album called 'This Way Up'. It's his second solo release after 2005's debut album 'Mondo Magneto'.
'I am now 85 to 90 percent done with the recording. Recordings have taken about year and a half,' says Brian. 'It was interrupted by touring with Paul of course. It's been quite a long process. But now I have time off. I recorded the basic tracks in the El Dorado where I recorded my first album and where you get a nice big sound. I put that on a hard drive and at home I put in lead guitars, percussion and background vocals.'
Abe Laboriel Jr. is one of the musicians appearing on the album. Others include Adam McDougall on keyboards, drummer Pete Thomas and bassist Davey Faragher from Elvis Costello's band, bassist Paul Bushnell, and drummer/percussionist Aaron Sterling. This Way Up will be out somewhere in January or February 2010. Brian also hopes to go out on tour to promote the album. See also http://www.youtube.com/watch?v=9L0dZz5NIH4
Playing with Paul McCartney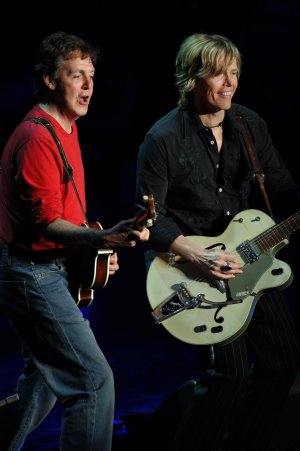 Paul McCartney's present band, which includes not only Brian Ray and Abe Laboriel Jr. but also Rusty Anderson and Paul 'Wix' Wickens, has been called the best since the Beatles. The band in its present lineup has been together for about seven years now. What is it like being in a band with Paul McCartney?
Brian: 'The truth is that we all adore Paul. We would rather play with Paul than anybody. We're a real family, a real band, we love Paul and we'd all rather be with him. We all get along great and we are very lucky to be in a band like this.' Although Paul is the one who decides what songs will be included in the set list, the band does have a voice in that and will also suggest their favourite songs. Brian for instance suggested 'She's Leaving Home' in 2004 and this was actually included in the set list. According to Brian touring and recording with Macca is still a dream come true. 'I still have to pinch myself and I can't believe I'm so lucky. And sometimes he looks just like he did when he was a Beatle and I'm just the luckiest kid you have ever met.'
And at this moment Brian couldn't give new tourdates with Paul in the near future...
Beatles International would like to thank Brian Ray for doing this interview. If you would like to buy 'Mondo Magneto' go to www.brianray.com. We will keep you updated about Brian's new album This Way Up in our news section.