In The Netherlands since 1965 the band GOLDEN EARRING were well-known as the best rock group
The Netherlands ever had, playing their numerous hits electric in major halls as well as acoustic in theatres.
The rest of the world will know them because of their world wide hit "Radar Love" but maybe also of
"Twilight Zone" and "When The Lady Smiles".
They even did a cover album called 'LOVE SWEAT' in 1995
which includes a wonderful version of the Beatles' 'I'll Be Back'.
This is 2022 now, with great sadness we have to tell you that the band no longer exists.
They performed until December 2019 and when Covid came along it was over before we knew it.
Due to a bad diagnose (of ALS) with THE founder, singer and guitar player George Kooymans
(second right on the picture) they had to break up. No farewell Tour, not even a farewell gig anymore.
We feel so sad for George. At the moment, April 2022, he seems doing fine and is still trying to finish some music.
Their very last show in December 2019 has been documented as a film and has been released on April 1st 2022
(no joke) as a 2CD/DVD-set and available for everybody.
Beatles International recommends you to order at https://shop.rockart.nl/ .
There you will find a lot of merchandise of Dutch Pop History.

The Dutch Museum RockArt is situated near the place The Beatles for the first time landed in The Netherlands
in August 1960 and can be found in the Zekkenstraat 42 in Hoek van Holland.
They have a large Golden Earring Exhibition, they're lovely people to meet and the merchandise is really fair priced.
Open every week from Thursday-Sunday 11 a.m. - 5 p.m.
When you are about to board the ferry to Harwich (2:15 p.m. or 10:15 p.m.) you'll have time to drop by and find out.
Beatles International has been very lucky to talk to the entire band in 2004 when we celebrated 40 years
of Beatles in NL. So the following interview took place in March 2004.
.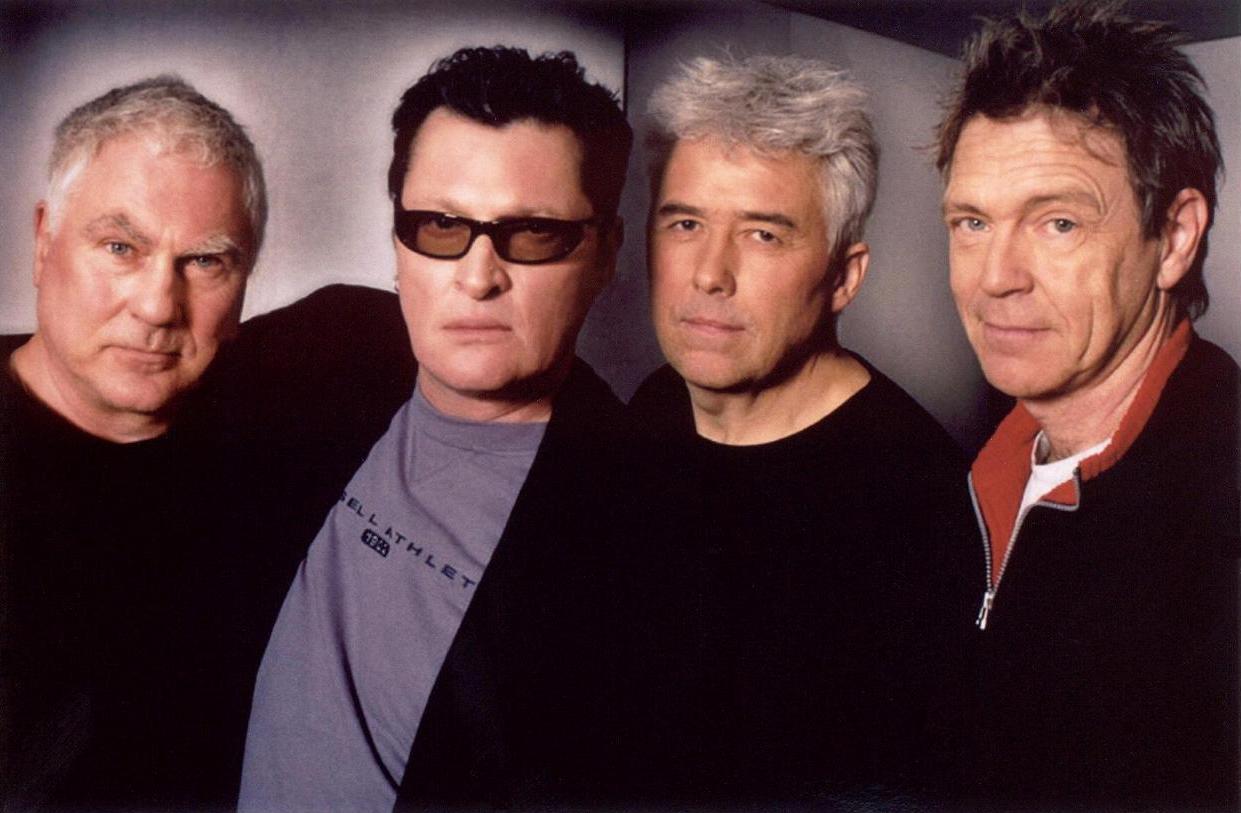 Interview: Guus Kok, Edited by Wendy van Nostrum

An appointment (with singer Barry Hay) was made in city theatre "Amphion" in Doetinchem.
Our hope of also speaking to the other band members was reduced with the words:
"You know us, we are like an aviary, you have a chance if they feel like it, but otherwise…"
Okay, we'll just see then! When we arrived Barry was already there dining.
After that he gave us time in the theatre lobby and we had the following conversation about the Beatles......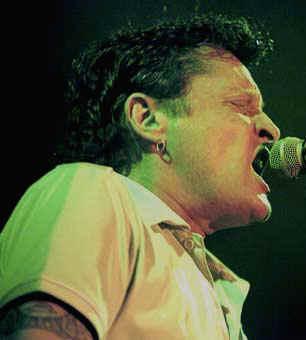 GK: Barry, you were about 16 years old when the Beatles became hot
news. What did they mean to you?
Barry: Well, quite a lot, but there were two camps: the Stones and The
Beatles. I was in fact a Stones fan, but the Beatles were very very
good. I remember going to the film "A Hard Day's Night" and I thought
it was fantastic. There was a special kind of atmosphere among the
boys that's hard to explain, a magical something, very special. When
you look at all the old footage – you can also see it in the Anthology – there was
really something happening there, something strange was going on with that band.
GK: Is this the reason why you entered into the music business?
Barry: No, we were already making music and I wasn't very good at singing the music of
the Beatles. The singer with the Earrings (at the time Barry was singer with the
Haigs, ed.) was Frans Krassenburg who had a high pitched voice and he was able to
sing their repertoire. The music from the Stones agreed with me better because
Jagger was singing more Rhythm & Blues-like and that was more my thing.
Later on Lennon also sang a bit bluesier. In the early days what the Beatles did
was all more melodious and to be honest, I wasn't a very melodious guy. I thought
it was beautiful to listen to, but I couldn't do it myself. There were bands who
were far better at it. The Haigs were also good at playing Beatles music, but it
was all over when two singers left the band and I joined them, haha!
GK: Have you ever met (one of) the Beatles?
Barry: No, never. I think that during the early Earrings recordings at the London Olympic
Sound studios someone once yelled that George Harrison walked by, but that was it.
GK: Did you learn from them? Use their music? Guitar licks or whatever?
Barry: Musically, I don't know actually. But the behaviour, yes. That mischievous, roguish
behaviour, their humour, those are the things that keep a band going.
GK: You recorded the Beatles' "I'll Be Back" ("Love Sweat" CD, 1995, ed.).
Barry: Yes, a great song.
GK: Did you choose from a lot of songs before you picked this one?
Barry: No, not at all. Almost all songs are an option, but I heard it on the radio and thought
immediately: this is one we should record. Very simple actually and incredible to do.
When you listen to their song it all seems so easy, but it's quite difficult…
GK: What's so hard about recording a Beatles song?
Barry: It's what I said before: something magical, a certain sound, coincidence, something
you can't put your finger on.
GK: "Blackbird" also seems to be something impossible...
Barry: Yes, you shouldn't touch that. Just like "Yesterday".
That's complete and strong as a rock, over and done, finished.
GK: Do you often listen to their music?
Barry: Quite, now and then. At the moment I'm listening to a lot of classic pop music, old
soul, Fats Domino, old Elvis songs, lots of music from those days.
And the Beatles as well.
GK: If you could compile a CD with 10 Beatles songs, which songs should definitely be on
that album?
Barry: I really wouldn't know right now… (He hesitates and then thinks of something.)
I already recorded "Happiness Is A Warm Gun" with the "Barking Dogs".
It's a fantastic song but we noticed – and I had never noticed it before – that
not one bit is the same as the other. It seems as if they glued it together as well!
That's not how it appeared to me before, it was always just a song, but when you
try to play it yourself it seems like music from Frank Zappa!
"While My Guitar Gently Weeps" is fine, "Norwegian Wood, In my life" is amazing - I´m
just randomly naming songs - "Taxman" is fantastic, "Paperback Writer, Revolution",
there are so many. But I would compile a very obscure Beatles CD, that's something
I've always liked best about them. Their hits never really appealed to me very much,
I like their crazy songs much more. "Yellow Submarine" for example, I don't like that
one at all. Or "Maxwell's Silver Hammer", a type of stupid McCartney songs.
During sunset I was at "Blue Jay Way" with an acquaintance from LA and he told me
that "lovers go there". So that was real. We helped a couple find their dog while we
were there.
GK: Who was your favourite?
Barry: (without hesitation) Lennon, then Harrison. Completely underrated guitar playing,
fantastic guitarist actually. In Clapton's "Badge" there's an amazing guitar break
(mimics the sound) and that's Harrison, he just plays something which is immediately
absolutely great!
The other members of the Earring have come in during our conversation, but they first like to have dinner
and then do the sound check. Many Earring fans will be jealous when they read this,
because we were allowed to stay and watch them from the side of the stage!
After the sound check we continued with George Kooymans.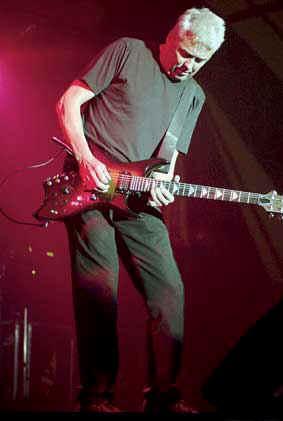 GK: George, you are the real Beatles fan in the Earring, right?
George: Yes, absolutely I'm a Beatles–man actually. I heard them through
Radio Luxemburg, they played their first singles such as "Twist and
Shout". At the time this was phenomenal for white guys. The way
Lennon sang, you could almost say that was "black". Those songs
immediately appealed to us. It was what inspired us to write our own
songs and try them. Before we listened to Little Richard or others we
liked, we didn't think about writing songs. It was a kind of revelation.
At that time we decided to sing as well.
(before this the Golden Earrings played instrumentally such as the Shadows).
GK: What was the first song you ever wrote?
George: I believe "Please Go"...
GK: Nothing else? Just to try first?
George: No "Please Go, Chunk In Steel", but those songs weren't recorded straight away,
we had been playing them for the audience for a while. Those songs were quite
popular then in The Hague.
GK: Did you ever meet them? In 1965 you were in the studio and you toured England?
George: No, I never met anybody, not afterwards either, solo or whatever.
GK: Ever dreamed of making music with those kind of guys?
George: (a bit hesitant and shy) Mwah, no, I just didn't have that kind of dreams.
GK: (conversation with Barry in my memory) How did you come up with "I'll Be Back"?
George: Barry's idea. We were going to make an album with songs we liked in the early days
and "I'll Be Back" was one of them. I just liked the idea and didn't need to listen to
other Beatles songs, "I'll Be Back" was the one, it's just spelled a bit differently.
GK: Which Beatles song do you like to play?
George: I like to play Lennon's "In my life", I don't play many other Beatles songs anymore.
I did buy the big book with al their songs.
GK: Is it really difficult to play a Beatles song?
George: Playing is okay, but they sang incredibly high, much in A, and for that register you
have to have quite a high voice.
GK: But you can go higher, right?
George: No, with a regular voice that's a real problem. Often there are funny little bits in it,
but it's playable.
GK: Well, if it was up to me, just make a CD full of Beatles music, because "I'll Be Back"
sounds great.
George: That's why we took a song that could take the criticism and not a song that would
get reactions such as: why this one, leave it alone.
GK: (For him the same question) If you could compile a CD with your 10 most favourite
Beatles songs, which song should definitely be on that album?
George: (without hesitation) "Helter Skelter" a great song, "In my life", jeez, I have to
think about it. I think both "Rubber Soul" and the "White Album" are fantastic
records and I could go on!
Time is short because they have to be on stage in a short while to perform!
The third Earring, Cesar Zuiderwijk didn't feel like answering questions but when he saw the others were doing this he let us take a few short quotes.
GK: Cesar, what did the Beatles mean to you?
Cesar: I learned how to play listening to the Beatles, all their records,
from the very first single. Every time I heard something new
from Ringo I tried to play exactly like him, that's how
I learned how to play the drums. Of course you understand
that I learned from Ringo and Charlie Watts.
GK: Are they your most important role models?
Cesar: At the time, yes.
GK: What are you favourite songs to play along to?
Cesar: The faster, more up tempo songs such as "Long tall Sally", that's what makes you a
better drummer.
GK: Only the older songs or, for example, also something from Abbey Road?
Cesar: No, just the first 4 or 5 records.
GK: Have you ever met them? Have you been to their shows? Have you seen them
perform solo?
Cesar: No. No. No. (to all options). But say hello to them for me and make them come over
some time! (Grins and then walks away)
GK: Thanks!
Then 'last but not least' Rinus Gerritsen, in the 'canteen', the place where band and crew meet, where Earring's own catering prepares their meals, everyone eats and has a chat until it's showtime.
Rinus listens standoffish to my introduction, his face expresses 'what's this?', but when everything is clear, he becomes enthousiastic and loosens up.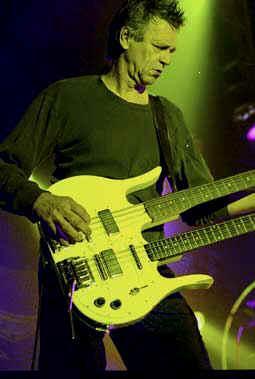 GK: You were a bit older than the other guys, about 18 years old when
the Beatles became popular. How did you experience it?
Rinus: Like some sort of revolution, an enormous revelation, we were pretty
impressed by it. The first time we heard "Please Please Me" we were
immediately hooked. When we heard "Twist and Shout" we immediately
made the connection to what we liked (Little Richard, Eddie Cochran,
Isley Brothers etc.). We then knew that that was pure Rock 'n Roll, the
way they sang and stuff, they had us, as it were.
We were still in our Shadows period and they were breaking through with a very
different style of making music. And writing your own music of course, yes the
whole Liverpool thing began with the Beatles but I never went to Liverpool, I'm not
someone who has idols. We thought they were great, but afterwards there were
many other artists that I thought were great, I have never been a fan of anyone.
Certain artists are a great inspiration to me, including The Beatles in their early days
of course. At that time they were the only revolutionary act in 1963-1964.
GK: You also began writing songs, what was the first song they inspired you to write?
Rinus: What ended up on the first record, "Please go" and that kind of thing, that was
pretty Beatle-like.
GK: Have you ever met them?
Rinus: They once visited Blokker, is it already 40 years ago? I'm not the type of person who
would watch them making a round trip on the canals, let alone jump in. I did follow
the whole thing and I still do that. I appreciate many artists but I'm never in the
audience during a concert. By the way, later on with the Beatles the most
interesting things happened on the albums and not on stage.
I was pretty intrigued by the enhanced images from the Shea-stadium, you could
see how great they were, but what nobody heard - and they knew it – instead of
being in cold sweat they had fun together. You could almost see Lennon say to
Harrison: "It's a madhouse, what are we doing here?", but at the same time they
played incredibly. If technique and such had been great at that time,
they would have become a fantastic live band.
GK: Which are your favourite songs to play along with, which licks are the most famous?
Rinus: O, jeez, many. Especially in the beginning. The one in "I Saw Her Standing There" is
legendary! Actually Paul McCartney was a very musical bass player, like I like to play.
Not just the basics but also the musical melodies. There are so many 'favourite
songs'. Recently I was on a radio show and I called "I Am The Walrus" and
"Strawberry Fields" the ultimate psychedelic songs. Furthermore, the songs from
the beginning, "Please Please Me, She Loves You" and those kind of songs,
with all those 'ooh's' and 'ah's'. Very clever to come up with something that's
completely unique but still just Rock 'n' Roll music with a good melody.
GK: But you have the same ability! Don't you know? Think about your incredible
"The Grand Piano", or "I've Just Lost Somebody", those are great songs!
(Both songs from 1968 albums: "Miracle Mirror" and "On the Double", ed.)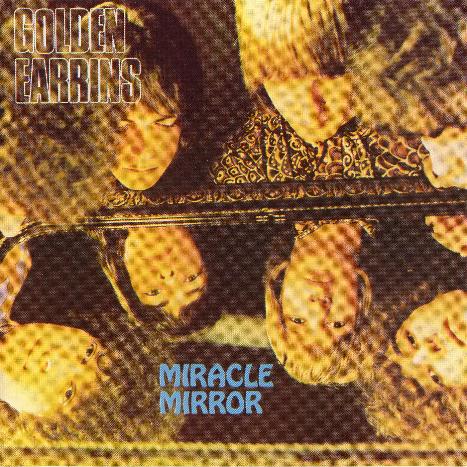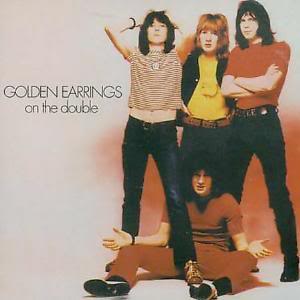 Rinus: (Wants to say something, then understands the compliment, shyly smiles about it
and says: "Nice!") There's no good or bad in art, being unique is important, then
the question of taste comes into view, you find something beautiful or not. And the
really big ones you can single out when you hear the very first couple of notes.
GK: You mentioned "I Am The Walrus" and "Strawberry Fields", which songs would you
put on your own Beatles CD?
Rinus: Those two and "Please Please Me, I Saw Her Standing There, Twist and Shout,
While My Guitar Gently Weeps, In My Life, Come Together" and so on!
Then our chat suddenly ends because the Earring is expected on stage! Thanks guys! http://www.goldenearring.nl