John's 1966 acting performance remastered for DVD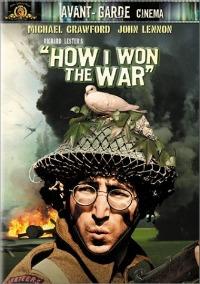 How I Won the War is the only non-Beatles-related film a Beatle has ever starred in; an anti-war farce set in WWII, made in 1967 by director Richard Lester. John Lennon starred and reportedly stole the show, although this may not have been the greatest of theatrical feats as the show wasn't exactly the hugest of hits with some critics at the time. Still, it's an artifact, especially for being the source of Lennon's signature circular specs, which he wore forever after making the film. Director Richard Lester has supervised the remastering of the movie for a new DVD release, which will be available on March 20 from the MGM Limited Edition Collection. For more about the movie and some clips, check out our Celluloid Heroes column about the flick.
In How I Won The War, Roy Kinnear plays a soldier named Clapper. Kinnear, who passed away in 1988, made several films with his close friend director Richard Lester, besides Help! and How I Won The War, including A Funny Thing Happened On the Way to the Forum, The Bed-Sitting Room and the Musketeer series of the 1970s and 1980s. Richard Lester also directed A Hard Day's Night.

How I Won The War is John Lennon's only non-Beatles performance in a feature film. The feature has been remastered for this DVD release with supervision from director Richard Lester and editor John Victor-Smith. For a limited time only the special edition commemorative Booklet will be included with each purchase featuring behind the scenes stills from the film.