The Beatles and the city of Liverpool. The two are inextricably linked. Liverpool is the city where all four Beatles were born, where Mersey Beat has its roots, and where popular musical history began. Therefore, each Beatles fan should at least once in his or her lifetime visit the city on the banks of the river Mersey. In order to make it easy for you to travel to Liverpool and find a place to stay, Beatles International has collected some useful, interesting and above all, Beatles-linked addresses.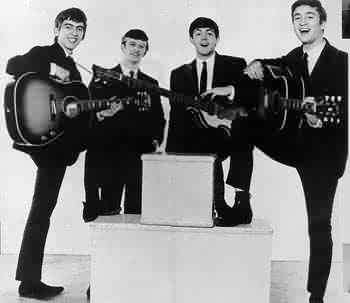 Discover the city where it all began. See where the Beatles lived and went to school, go to the Cavern and travel back in time in the Beatles Story at Albert Dock. Simply do what every Beatles fan must do at least once. But we can guarantee you, if you've been to Liverpool once, you will most certainly come back for a second, third or fourth time. Or perhaps you will come back each year in August during the Beatles Week Festival. Just like tens of thousands of other Beatles fans.
And if you want any personal guidance to help you discover this wonderful city, Beatles International recommends a certified Beatles guide! For more information check out our 'tours' section and read all about Mr. Paul Sherlock.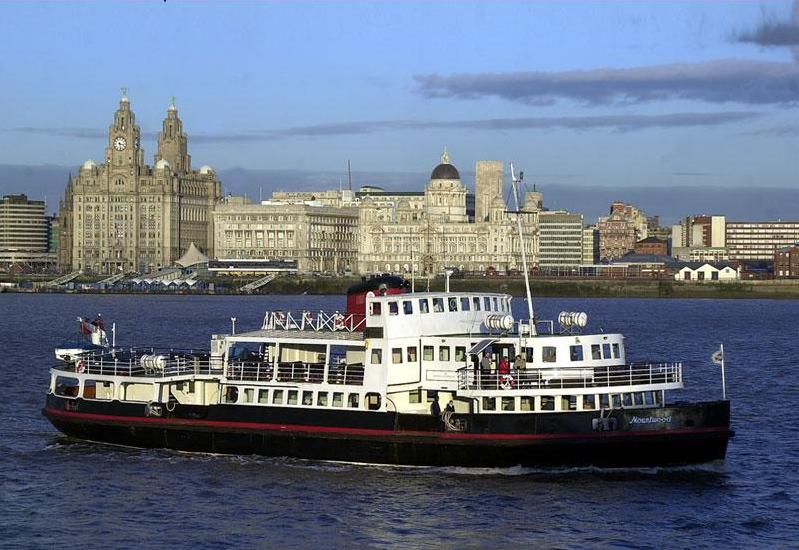 Travel to Liverpool:
Liverpool has it own airport, just south of the city, called Liverpool John Lennon Airport. Both Ryanair (www.ryanair.com) and EasyJet (www.easyjet.com) have regular flights to and from this airport from various European cities. Check out their websites to see if they fly to Liverpool from a city near you. Or go to: www.liverpoolairport.com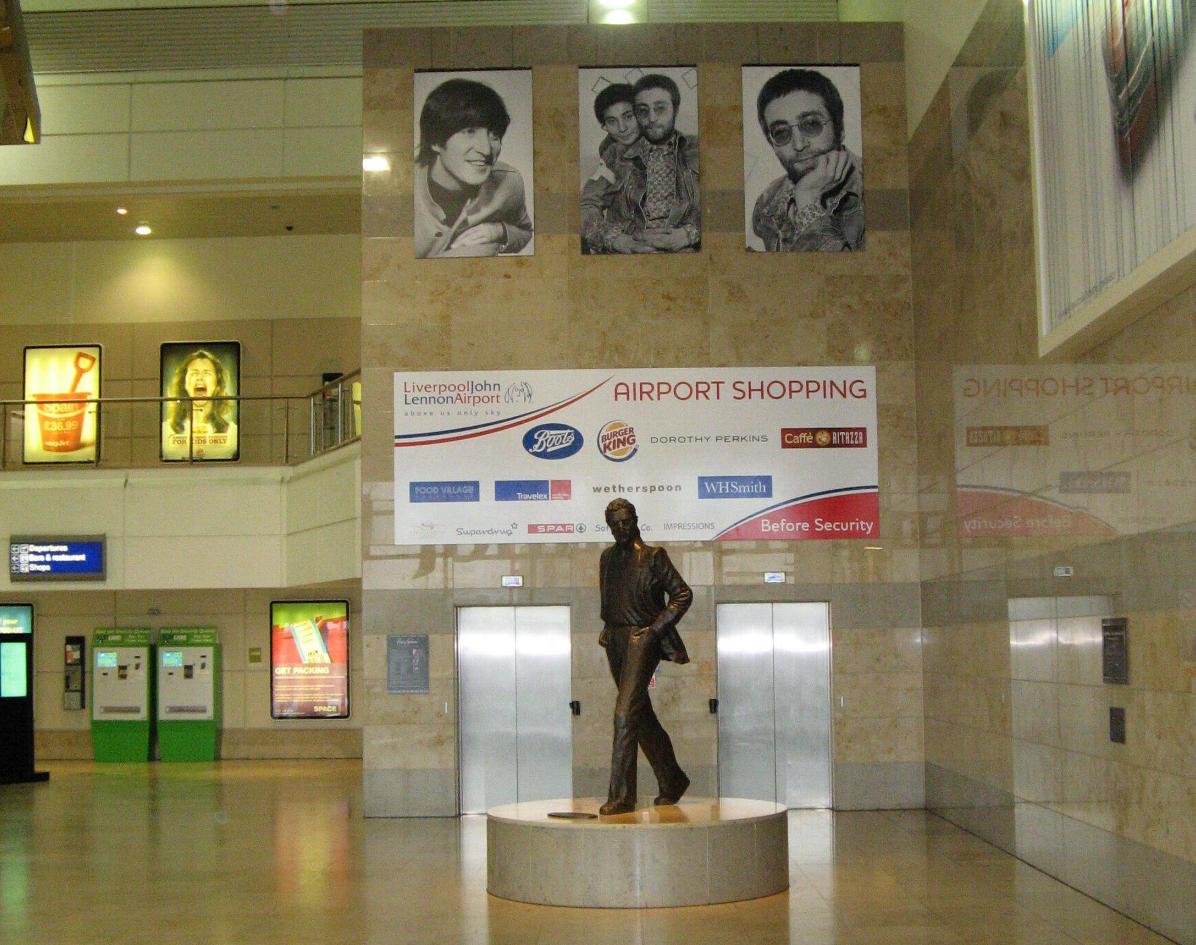 Having arrived at JLA it is easiest to take the Airlink 500 bus to Liverpool City Centre, which stops at all the major hotels, or alternatively the 80A or 86A bus service. All buses stop in front of the arrivals/depature hall of the airport. This is where you can also catch a cab into town.
Visitors from outside Europe should fly to either London or Manchester. Please check with your nearest airport or travel agent. Both London and Manchester have regular train service with Liverpool Lime Street station.
If you want to go by car (from Europe) you should take one of the ferries to and from the Netherlands, France or Belgium, Scandinavia, or travel via the Eurotunnel (Calais, France, to Folkestone, UK, vv). Please check with your local travel agent or go to www.ferries.co.uk
Hotels in Liverpool:
For a complete list of all hotels in Liverpool go to www.liverpoolhotels.com or to www.visitliverpool.com, the website of Liverpool's official tourist information centre.
Liverpool has lots of hotels in each price category, from youth hostels and budget hotels, to four and five star hotels and everything in between. Note: during Beatles Week Festival, match days (when Liverpool and/or Everton play their home matches), and festive days, hotels (especially in the city centre) are usually fully booked. So if you plan to go to Liverpool always keep this in mind and
book your hotel well in advance.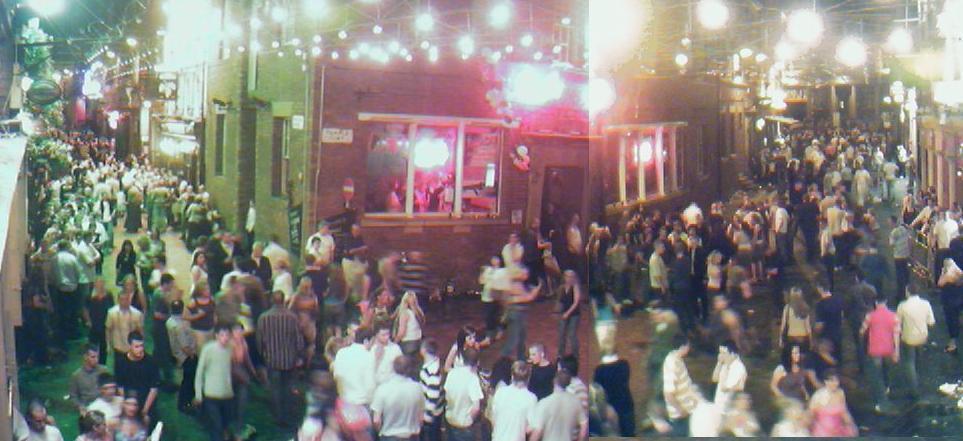 Saturday Evening in Mathew Street during the annual Beatles Week Festival in August
INTERNATIONAL BEATLES WEEK Cavern City Tours
Cavern City Tours is the organiser of the annual Beatles Week Festival in August. During this week you can enjoy many loads of Beatles-related events (music, convention, auction, street festival, exhibitions, etc.). CCT has various packages available which include hotel accommodation and tickets for the events. For more information go to www.cavernclub.org or send an email to This email address is being protected from spambots. You need JavaScript enabled to view it.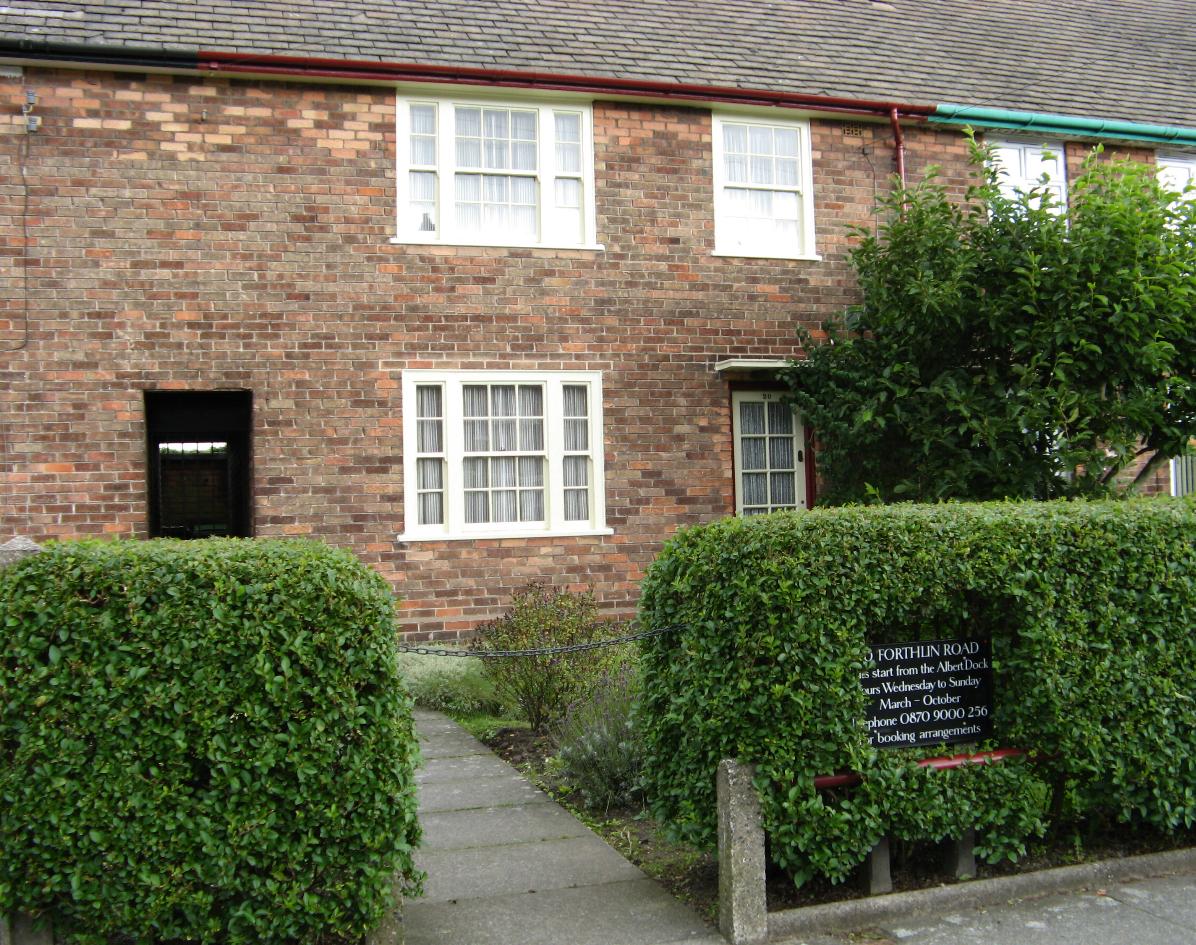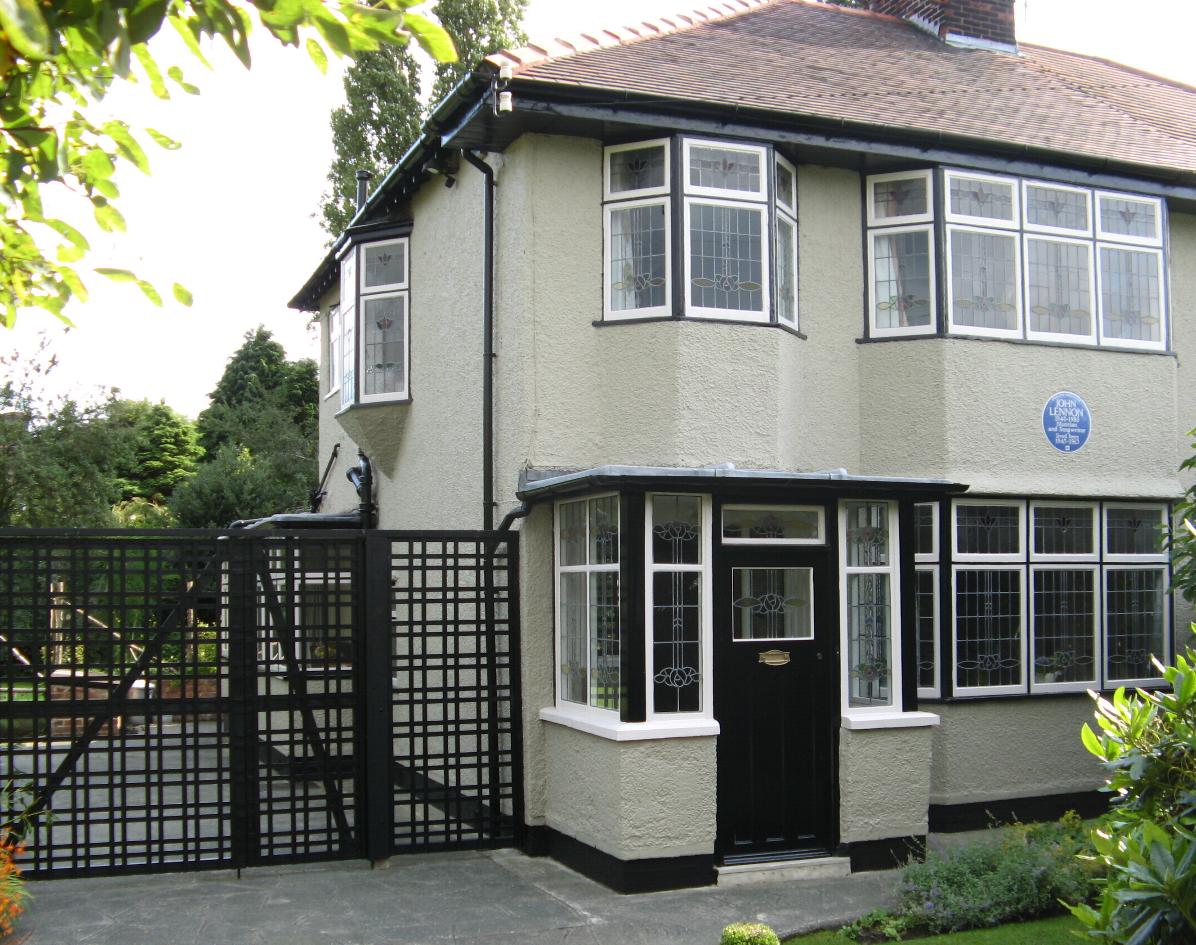 Left: Paul McCartney's home, 20 Forthlin Rd, and John Lennon's 251 Menlove Avenue, "Mendips"
Beatles sights:
Despite the fact that the Beatles moved to London more than 40 years ago, there are still many sights that are until this very day strongly linked with Beatles history. For example, the houses in which the boys lived. Or the schools they attended, the venues they played, the pubs they went to, etc. If you want to visit these sights yourself you have a number of options. For example:
•Buy a map of Beatles sights at the tourist information centre or the Beatles shop and hop on a bus
•Buy a ticket for the Magical Mystery Tour bus which takes you to the most important sights in downtown Liverpool and the suburbs (we recommend this if this is your first trip to Liverpool because you get to see the most important sights). See www.cavernclub.org/mystery_tour.php
•Go on a Liverpool Beatles Tour, a private a luxury car, minibus or coach. You can pick the day, the time and where you want to go. See www.visitliverpool.com and click 'tours & transportation' and then 'guided tours'.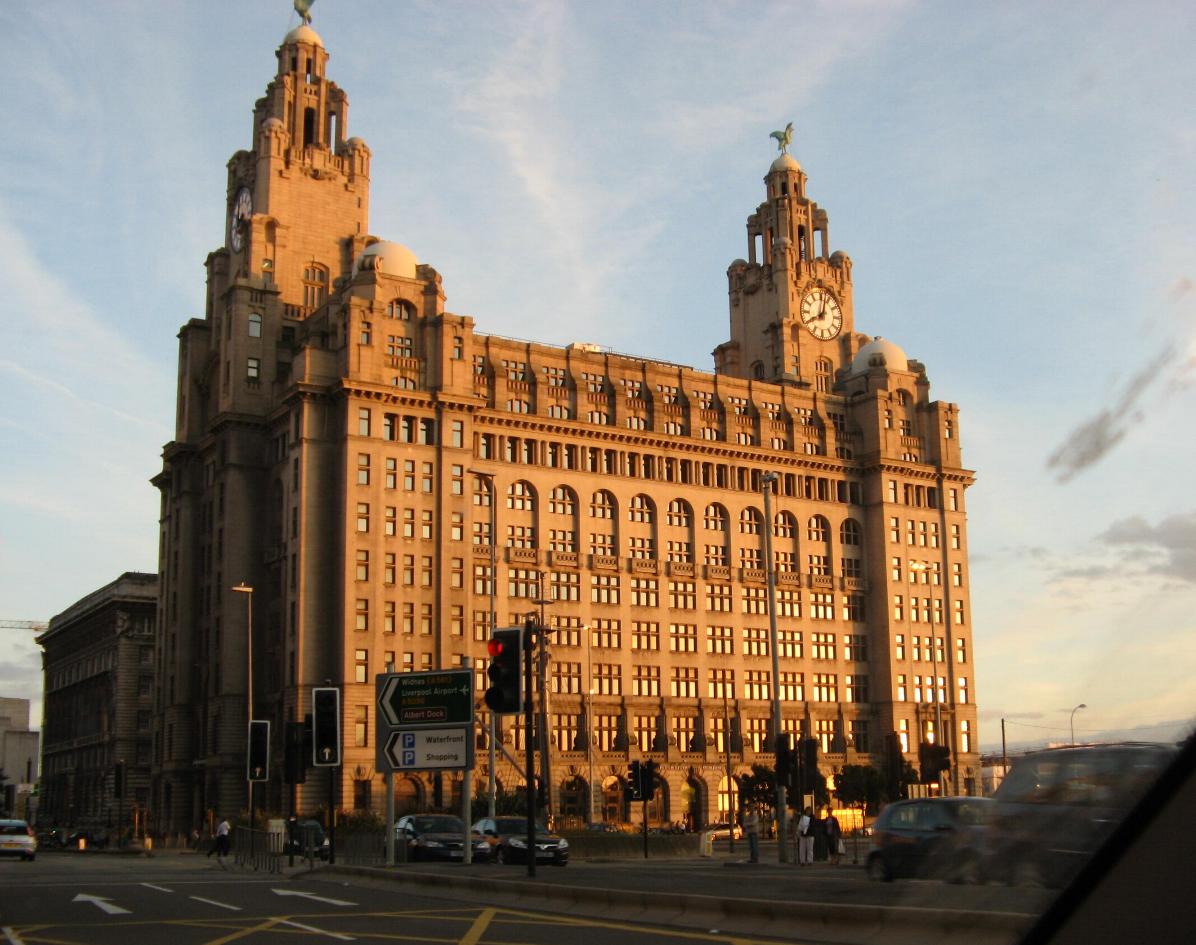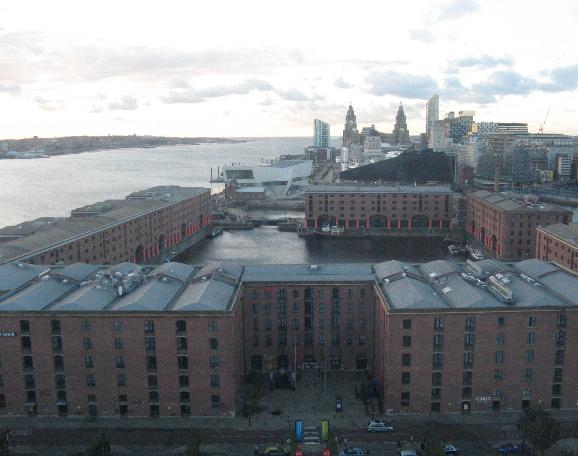 The Liver Building (left) and Albert Dock
Other interesting sites:
There are many in Liverpool, so we'll suffice by listing the most important/interesting. If you go to www.visitliverpool.com you can find more.
Albert Dock. One of the most visited attractions in Liverpool, showcases some of the best sights in a waterfront setting. This former dock warehouse system now boasts many restaurants, hotels, shops and museums. For more information see www.albertdock.com.
Liverpool ONE shopping centre.
Fancy a bit of shopping? Then you must definitely visit Liverpool ONE, a huge and brandnew shopping and leisure centre, which includes 160 shops, more than 20 bars and restaurants, a 14 screen cinema and a park.
Here you see the big tribute to the band in the HMV shop. The complete shop window is covered with this picture.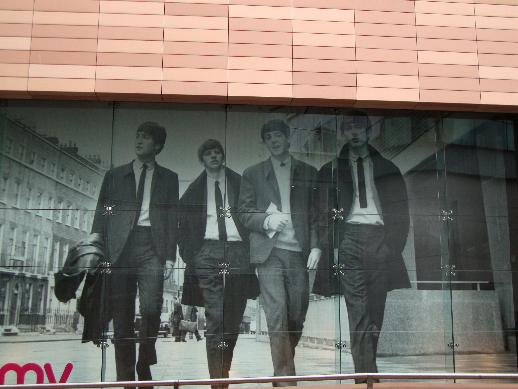 Footbal stadiums. Besides the Beatles, Liverpool is also known for its legendary football clubs, Liverpool FC and Everton FC. So if you are a footbal fan, be sure to visit either or both of these stadiums. Go to www.liverpoolfc.tv or www.evertonfc.com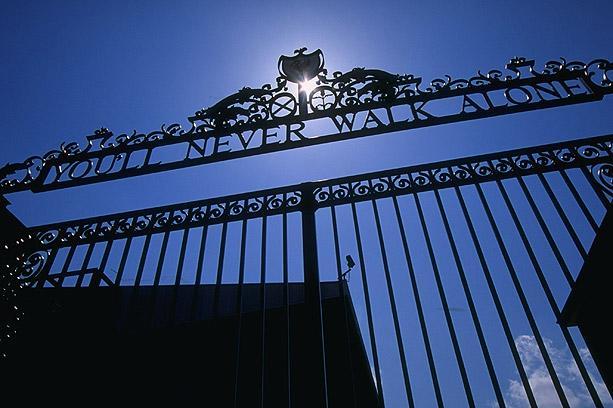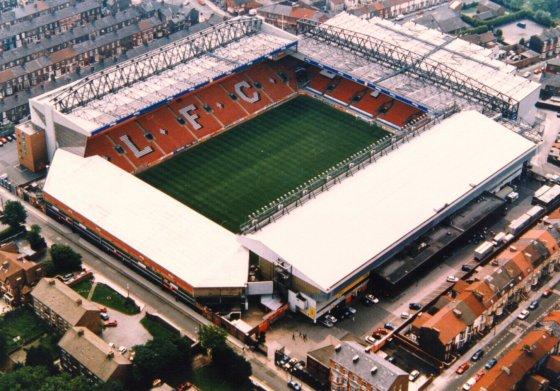 FC Liverpool stadium
Cathedrals. Liverpool boasts two cathedrals which are landmarks of the city and its skyline. There is an Anglican cathedral (www.liverpoolcathedral.org.uk) and a Roman Catholic cathedral (www.liverpoolmetrocathedral.org.uk)
Museums. If you like to visit a museum during your stay in Liverpool then you will certainly be able to enjoy yourself. To name but a few: World Museum Liverpool, Walker Art Gallery, Tate Liverpool, Merseyside Maritime Museum, and of course the Beatles Story at Albert Dock. For more information check out www.liverpoolmuseums.org.uk or www.tate.org.uk/liverpool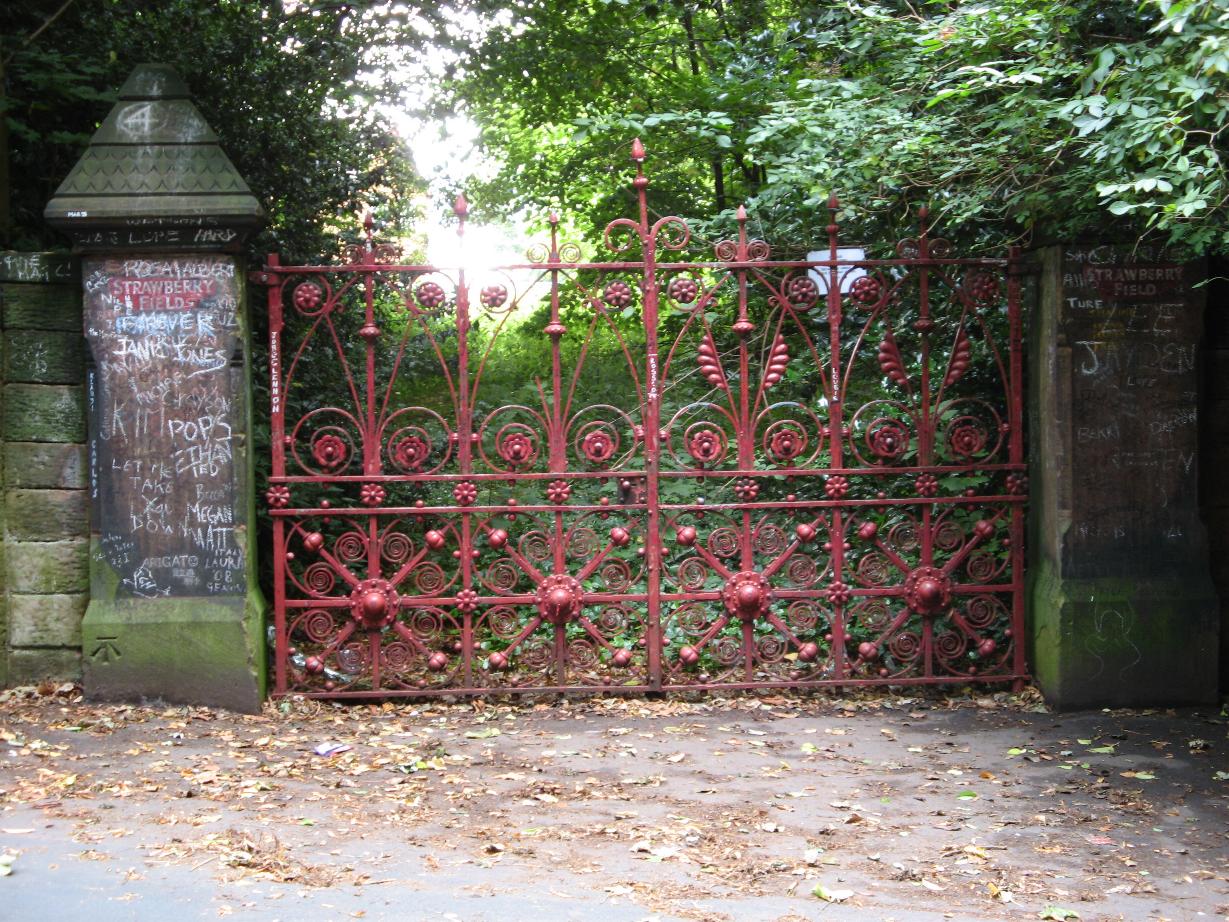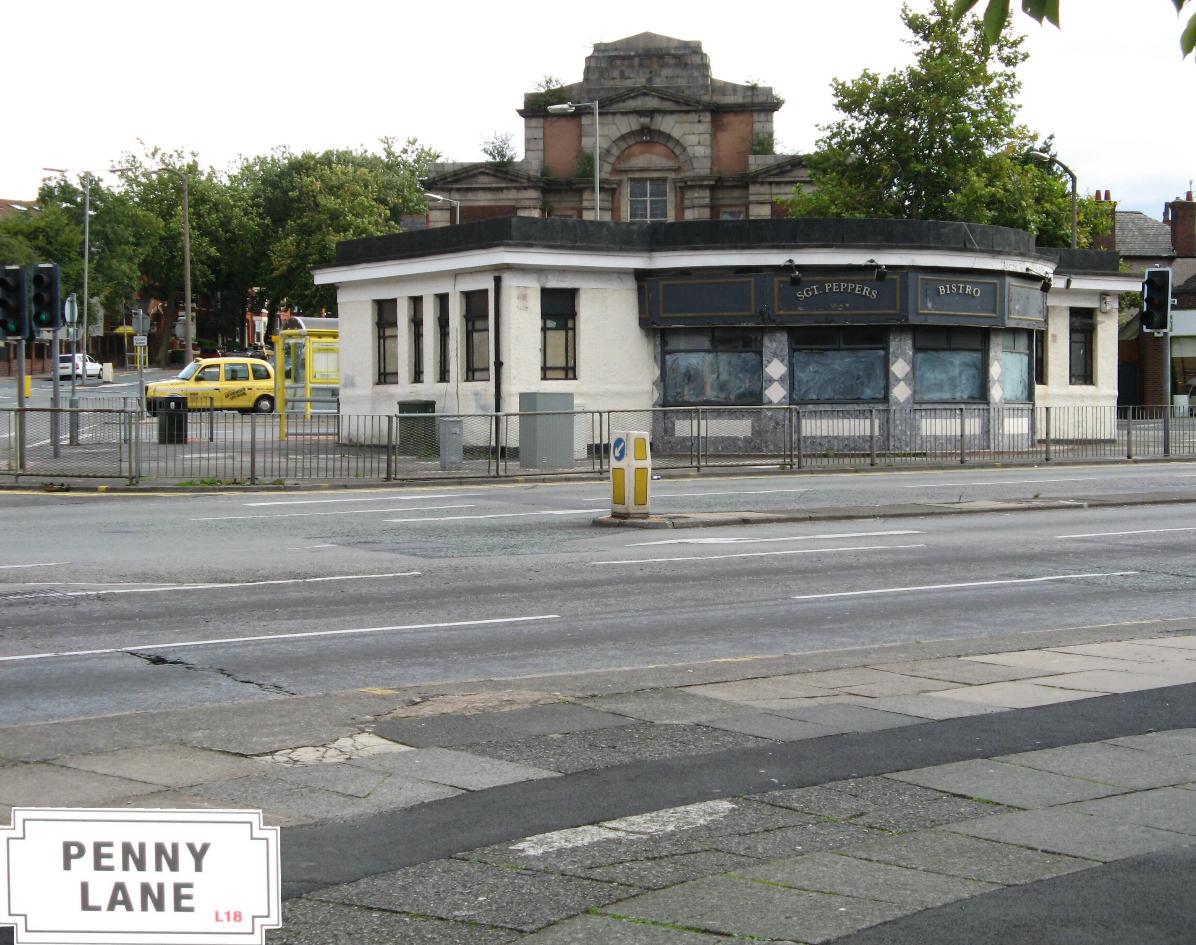 The renowned Strawberry Fields fence (left) and Penny Lane
MUSIC. The city where musical history began is of course home of many venues where both up and coming bands and big names in the music scene come and play. Here are just a few of these venues: the Cavern (www.cavernclub.org), Carling Academy (www.liverpool-academy.co.uk), Bluecoat Arts Centre (www.thebluecoat.org.uk), Barfly Liverpool (www.barflyclub.com/liverpool), ACC Liverpool Echo Arena (www.accliverpool.com).
And of course Liverpool always honours The Beatles or its members, whenever the time is right. In 2007 the city celebrated John's legacy and Ringo visited the city in 2008 when it was Cultural Capital of the Year. In October-December 2010 Liverpool remembers John Lennon's 70th birthday and the 30th anniversay of his cruel death with a lot of events.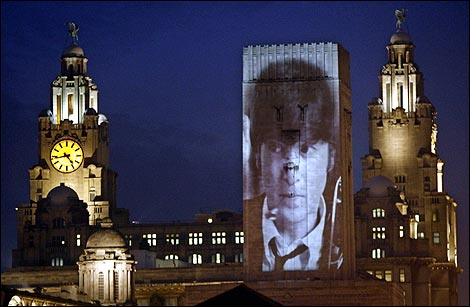 Other useful addresses Beatles International recommends:
http://www.harddaysnighthotel.com/ 

http://www.visitliverpool.com/
http://www.merseyferries.co.uk/ 

http://www.merseytravel.gov.uk/ 

This section will be updated regularly. So don't be a stranger and check back every now and again. And it is by no means definite, so if there's anything you would like to know that you can't find here, please contact Guus (This email address is being protected from spambots. You need JavaScript enabled to view it.) or Gabriëlla (This email address is being protected from spambots. You need JavaScript enabled to view it.) at Beatles International and we will try to find out for you.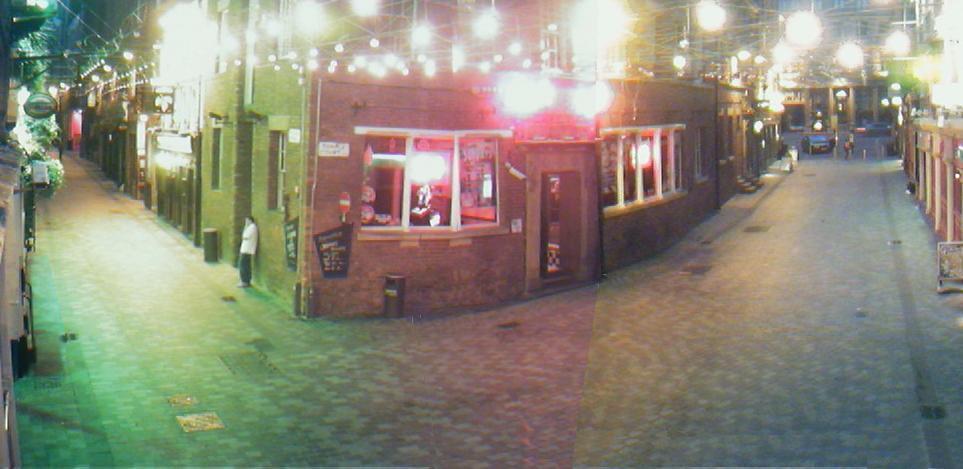 An early Sunday Morning in Mathew Street

Liverpool boasts a great variety of restaurants in various price categories. From traditional British to Indian, Italian, Mexican, Spanish, Asian and even Russian.
And if you want to discover the real Liverpool in 1964? Here's a wonderful documentary made for West German Television!
http://www.liverpoolpictorial.co.uk/blog/liverpool-1964-full-version/