On this spot we have room for your advert.
This email address is being protected from spambots. You need JavaScript enabled to view it.
us for information.
News
Welcome to Beatles International news. We will do our best to keep you up to date about anything Beatles related. Therefore this page will be updated frequently. Check out the new sub-pages, attached to various main pages.
NEW Songs Live In Vegas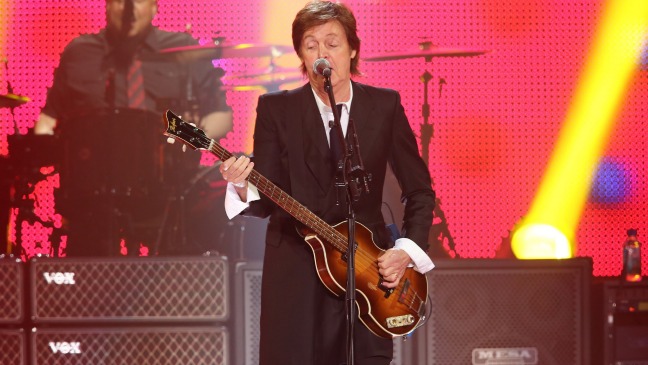 Paul played a short live set in Las Vegas yesterday as part of the iHearts Festival. The set included three new songs from his forthcoming album: New, Save Me and Everybody Out There. This is the full set list Magical Mystery Tour, Save Us, Let Me Roll It, Everybody Out There, Another Day, New, Lady Madonna, Live And Let Die. Check out the new songs here: http://www.youtube.com/watch?v=ijCQeszziXw, http://www.youtube.com/watch?v=bMmIX10rCQw, http://www.youtube.com/watch?v=uKYh9pok8eY 
JACKIE LOMAX Dead At 69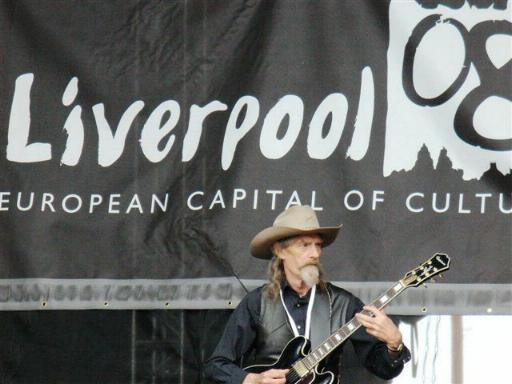 (photo: Guus Kok)

Liverpool guitarist Jackie Lomax has died during a trip to a family wedding in the U.K. The musician, 69, who worked with The Beatles and Eric Clapton during his 50-year career, reportedly passed away on Sunday (15 September). Lomax had returned to England for the wedding of one of his children. The musician, who was married to the mother of famed photographer Terry Richardson, began his career in the early 1960s playing with several groups based in The Beatles' hometown of Liverpool and he released four singles with legendary group The Undertakers. He later signed to Apple Records as a solo artist and released the George Harrison-penned single Sour Milk Sea, but the track flopped. In the 1970s, he split his time between Britain and the U.S. and worked with several bands, including The Lomax Alliance, before relocating permanently to America in 1978 and continuing to work as a 'gun-for-hire' guitarist. He also played bass on tour with groups including The Drifters and The Coasters. One of Lomax's most recent appearances was at a concert last year (12) to celebrate the 50th anniversary of the famed Star-Club in Hamburg, Germany.
THE BEATLES – Live At The BBC Volume 2 trailer and tracklist
The Beatles: On Air – Live At The BBC Volume 2 will be released as a 2 CD and as an 180-gram 4 LP with booklet of 48 pages. Release date is set for 11 November. Here';s the official trailer  http://www.youtube.com/watch?v=RkPZH4MYCKM&feature=youtu.be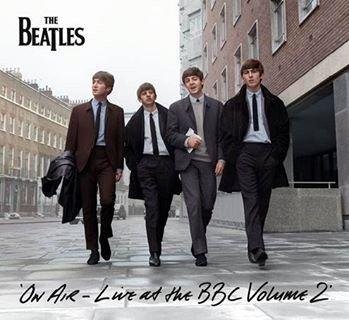 And this is the track list:
Cd 1:
1. And Here We Are Again (Speech) / 2. Words Of Love / 3. How About It, Gorgeous? (Speech) / 4. Do You Want To Know A Secret / 5. Lucille / 6. Hey, Paul… (Speech) / 7. Anna (Go To Him) / 8. Hello! (Speech) / 9. Please Please Me / 10. Misery / 11. I'm Talking About You / 12. A Real Treat (Speech) / 13. Boys / 14. Absolutely Fab (Speech) / 15. Chains / 16. Ask Me Why / 17. Till There Was You / 18. Lend Me Your Comb / 19. Lower 5e (Speech) / 20. The Hippy Hippy Shake / 21. Roll Over Beethoven / 22. There's A Place / 23. Bumper Bundle (Speech) / 24. P.S. I Love You / 25. Please Mister Postman / 26. Beautiful Dreamer / 27. Devil In Her Heart / 28. The 49 Weeks (Speech) / 29. Sure To Fall (In Love With You) / 30. Never Mind, Eh? (Speech) / 31. Twist And Shout / 32. Bye, Bye (Speech) / 33. John - Pop Profile (Speech) / 34. George - Pop Profile (Speech)

Cd 2:
1. I Saw Her Standing There / 2. Glad All Over / 3. Lift Lid Again (Speech) / 4. I'll Get You / 5. She Loves You / 6. Memphis, Tennessee / 7. Happy Birthday Dear Saturday Club / 8. Now Hush, Hush (Speech) / 9. From Me To You / 10. Money (That's What I Want) / 11. I Want To Hold Your Hand / 12. Brian Bathtubes (Speech) / 13. This Boy / 14. If I Wasn't In America (Speech) / 15. I Got A Woman / 16. Long Tall Sally / 17. If I Fell / 18. A Hard Job Writing Them (Speech) / 19. And I Love Her / 20. Oh, Can't We? Yes We Can (Speech) / 21. You Can't Do That / 22. Honey Don't / 23. I'll Follow The Sun / 24. Green With Black Shutters (Speech) / 25. Kansas City/Hey-Hey-Hey-Hey! / 26. That's What We're Here For (Speech) / 27. I Feel Fine (Studio Outtake) / 28. Paul - Pop Profile (Speech) / 29. Ringo - Pop Profile (Speech)
JOHN & PAUL recording "Come Together"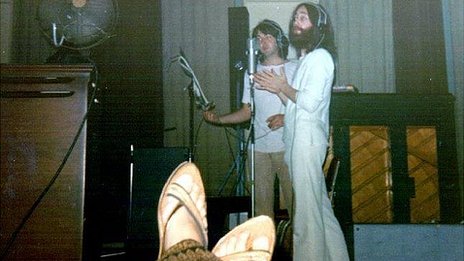 recently found picture of  
 2 friends recording vocals
 during a session for 'Come
 Together', late July 1969
 after John & Yoko  had been
 in a car crash in Scotland. 
 There was a bed set up for
 Yoko in Studio 2.
 (thank you Mark Lewisohn
   for your expertise)
BEATLES INTERNATIONAL in LIVERPOOL 2013
BEATLES INTERNATIONAL was in Liverpool again during Beatlesweek 2013.
For a full report and for information on how to sign up for our extended Liverpool private car tour in 2014
check out the 'BI' section of our 'News' page. And the page 'Liverpool' section 'Tours'. 
save WOOLTON BATHS in Liverpool
For people who don't want to miss a chance to see where John and Paul learned to swim in their youth,
we have great news! It's all organised by volunteers, who try to collect money to re-open the bath for the kids
in the neighbourhood. Please go there and support them to keep a special Beatles site in Liverpool alive.