On this spot we have room for your advert.
This email address is being protected from spambots. You need JavaScript enabled to view it.
us for information.
News
Welcome to Beatles International news. We will do our best to keep you up to date about anything Beatles related. Therefore this page will be updated frequently. Check out the new sub-pages, attached to various main pages.
PENNY LANE trumpeter passes away at age 85
David Mason, the man who performed the famous piccolo trumpet solo on the Beatles song Penny Lane, has died on 29 April. The trumpet player was awarded the prestigious Beatles gig in 1967 after Paul McCartney saw him performing Bach's Brandenburg Concerto No. 2 in F Major with the New Philharmonia on the BBC.
PAUL: Best Bass Guitar Player of All Time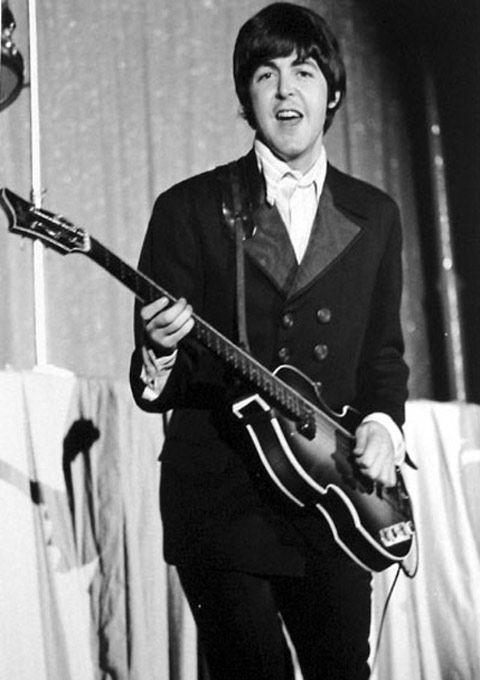 For the Gibson Lifestyle blog, Paul McCartney is 'the best bass guitar player of all time'. 
According to a rundown of the top ten bassists on the Gibson Lifestyle blog, Paul deserves the accolade ahead of the likes of John Paul Jones from Led Zeppelin and Flea of the Red Hot Chili Peppers. 
Columnist Ellen Barnes said 'McCartney's place at the top is deserved because he is such an influential musician. McCartney became the Fab Four's bassist by default after original bassist Stuart Sutcliffe left the band.' 
Second place in the list went to Motown star James Jamerson, who played the bass guitar on songs such as My Girl, I Heard It Through the Grapevine and For Once In My Life. 
Macca won another distinction: the Grammy Award for Best Solo Rock Vocal Performance, for his version of Helter Skelter, in New York in 2009.
BEATLES International on Facebook and Twitter
Beatles International is also on Facebook and Twitter. Stay up to date with the latest news and join us there as well! All you have to do is send a request to join us.
BEATLES Love App Available in App Store
After conquering the i-Tunes charts, the Beatles have now also hit the App Store. The brand new Beatles Love App is now available for free in the App Store. The App offers samples of the official soundtrack, behind the scene photos and videos.
LIVERPOOL street names
Here's an appeal by David Bedford, author of Liddypool, for an attempt to have Liverpool streets named after Brian, Pete and Stuart. Make sure to join their Facebook page!
'I am asking for your help in gaining recognition for Pete, Stuart and Brian in Liverpool by having streets named after them. Gene Grimes has been campaigning for better recognition for The Beatles in Liverpool for over 30 years, and was successful in gaining the street names of John Lennon Drive, Paul McCartney Way, George Harrison Close and Ringo Starr Drive in 1981. He was also part of the successful team who erected the statues of The Beatles in Cavern Walks. He has been working with the Liverpool City Council who are very receptive to his proposals, and so Gene has asked me for some help from the international Beatles community.

If you would like to support us, then please join the group' "Name Liverpool Streets after Pete Best, Stuart Sutcliffe and Brian Epstein" at http://www.facebook.com/home.php?sk=group_153558401361672&ap=1