On this spot we have room for your advert.
This email address is being protected from spambots. You need JavaScript enabled to view it.
us for information.
News
Welcome to Beatles International news. We will do our best to keep you up to date about anything Beatles related. Therefore this page will be updated frequently. Check out the new sub-pages, attached to various main pages.
JOHN & PAUL recording "Come Together"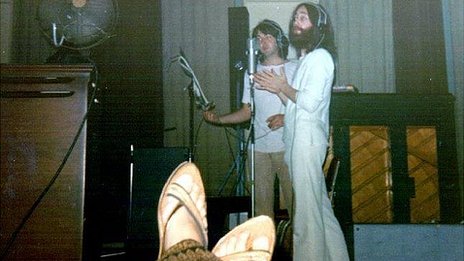 recently found picture of  
 2 friends recording vocals
 during a session for 'Come
 Together', late July 1969
 after John & Yoko  had been
 in a car crash in Scotland. 
 There was a bed set up for
 Yoko in Studio 2.
 (thank you Mark Lewisohn
   for your expertise)
BEATLES INTERNATIONAL in LIVERPOOL 2013
BEATLES INTERNATIONAL was in Liverpool again during Beatlesweek 2013.
For a full report and for information on how to sign up for our extended Liverpool private car tour in 2014
check out the 'BI' section of our 'News' page. And the page 'Liverpool' section 'Tours'. 
save WOOLTON BATHS in Liverpool
For people who don't want to miss a chance to see where John and Paul learned to swim in their youth,
we have great news! It's all organised by volunteers, who try to collect money to re-open the bath for the kids
in the neighbourhood. Please go there and support them to keep a special Beatles site in Liverpool alive.
LIVERPOOL's NEW Kasbah
 An article from local newspaper The West Derby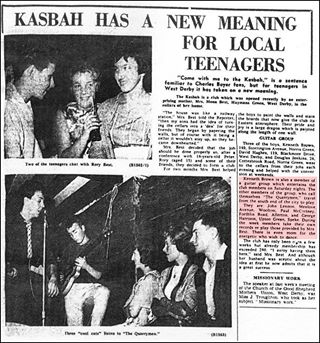 Reporter,
 on the  opening night of the 'Kasbah'.