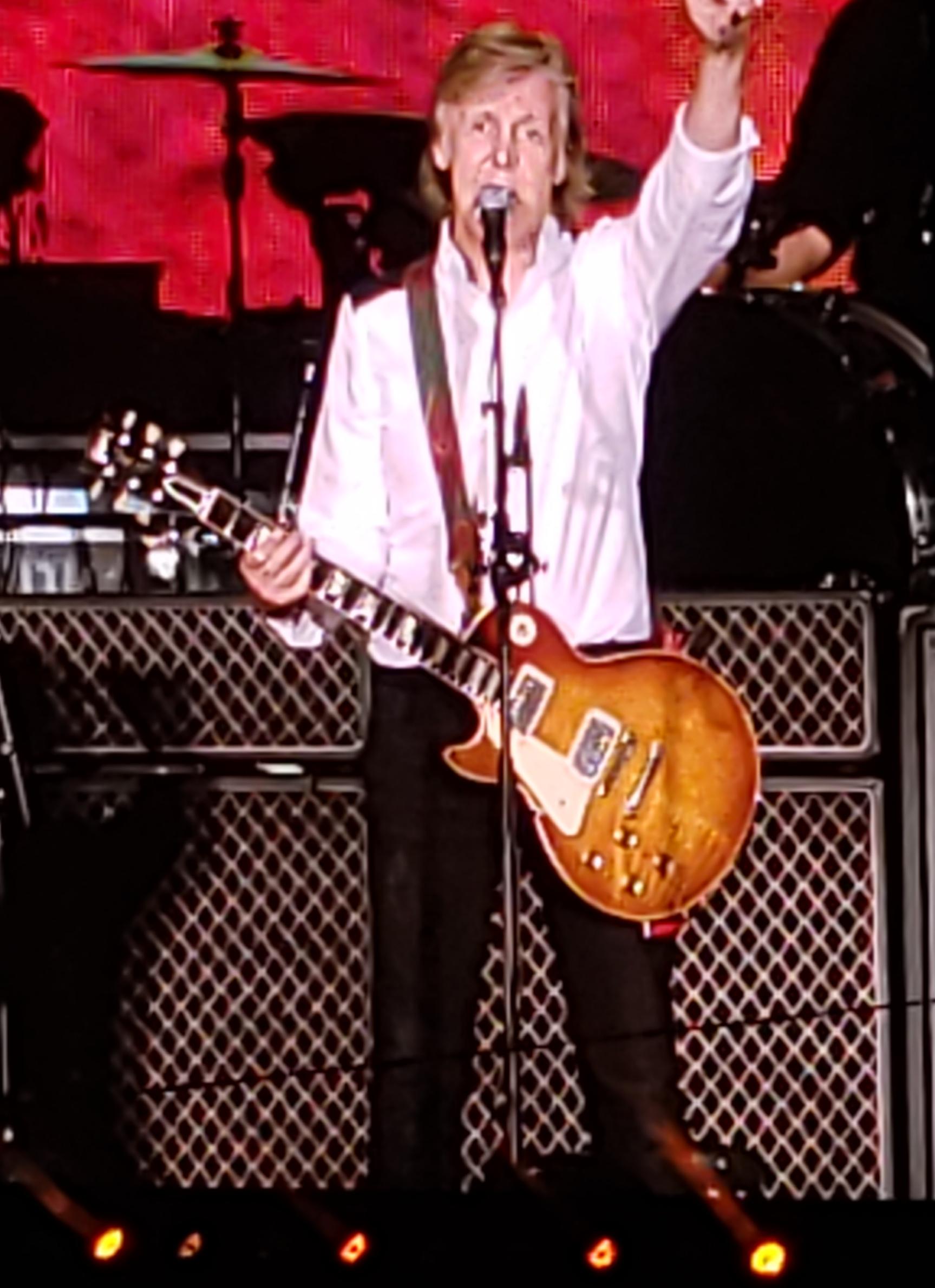 SIR JAMES PAUL McCartney: FRESHEN UP! in Los Angeles
By: Opher Segal

The very last performance

by

Paul McCartney's recent concert tour,

en

titled "Freshen Up", was held appropriately at Dodger

s

Stadium

in

Los Angeles in front of sellout crowd of over fifty thousand adoring fans.

Some of you might remember that The Beatles

held their last concert in the City of Angels in August 1966

.

Paul did appear

with his current band

at

Dodger

s

Stadium about five years ago.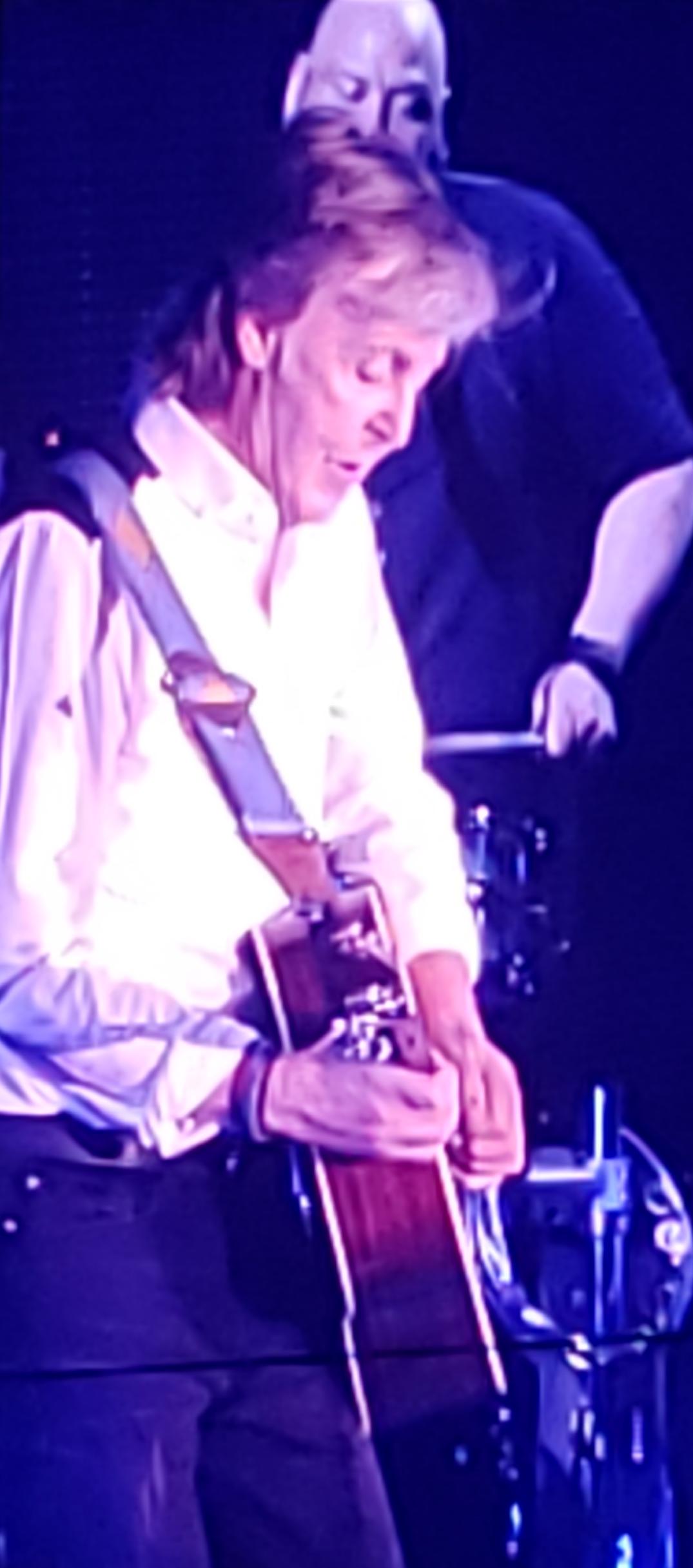 Some of Hollywood finest, and many notables attended this incredible love fest in which Paul and his band rocked the crowd for well over three hours. Life is all about ages, and stages,

and as such,

Paul,

is

like very fine wine

!

His amazing demeanor of everlasting youthfulness and

unending energy me

smerized

and captivated the capacity crowd.
The

songs chosen were an

eclectic

combination

from the distant past

to his current album.

With a tune from

the early days of The Quarrymen

's

, first cut, "In Spite of A

ll

the Danger"

, as well as a

tribute to both

of

his late Fab Four brothers, John and George

w

ith the

songs

"If You Were Here Today", and

"For the Benefit of Mr. Kite" for John, and "Something" for George respectfully.

Paul also paid a very worthy tribute to the legendary late great Sir George Martin, the "5th Beatle".

Paul and his longtime band belted out about forty

chronologically hit

tunes

from the Beatles, to Wings, to

his new album "Egypt Station".

Towards the end of the show, Paul declared

,

"

We have a surprise for us,a surprise for you, a surprise for everyone,...

Ladies and gentlemen, the one and only Ringo Starr." The two embraced as Paul shouted to Ringo, "I love you man!" Ringo gave his eternal peace V sign and addressed the elated crowd saying "Peace and love!" As Ringo proceeded to the drums, Paul turned to the audience referring to Ringo as "My brother."



Just prior to

that point

,

I had a feeling

deep inside..

that maybe, just maybe we

would

witness history tonight, and Ringo

would

appear

.

T

o my great delight

,

that is exactly what transpired to the much surprise and delight

of the fans

!

While

Ringo

sat down to play the drum

s

set, right next to

the very talented

Abe, Paul's current drum player

,

Paul reminded the crowd, "If you love someone, don't wait to let them know, do it now

, because later just might be to late!" Ringo then asked,

"A

re you ready to rock?"

He

joined

in

playing, "Sergeant Pepper's Lonely Hearts Club Band" and "Helter Skelter".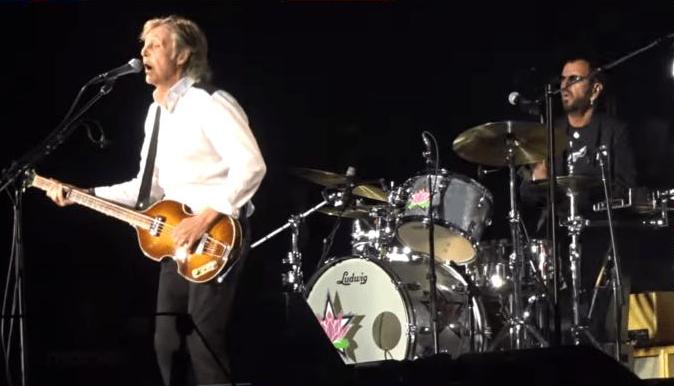 The fans rose to their feet knowing they were witnessing an historical

performance

!
While Ringo was playing the first number, "Sergeant Pepper", Paul turned around and thanked Ringo "We'd like to thank you once again," as Paul turned his head towards Ringo, and said" "Thank you!" and Ringo smiled a big smile back at Paul, and that was not it, Ringo stayed on and played the next tune "Helter Skelter'.

After Ringo concluded the song he took center stage once again alongside his Beatle brother Paul, they hugged warmly, and Ringo told Paul, "No, thank you, Paul. It

'

s been a thrill for me, and I've had a lovely night, and it's a great show, and I love you, man." Paul relied: "And I love you, man." as he added Ringo's famous words: "Peace and love, Ringo, forever." As a ending gag, Ringo threw his drum

sticks

into the crowd, and then caught Paul a bit off guard, and made is if he was going to toss

Paul's

beloved Hofner bass

guitar

into the crowd,

...

he did not, and Paul looked like he really treasured this most precious moment. All in good loving spirits as the crowed just ate it up. History...!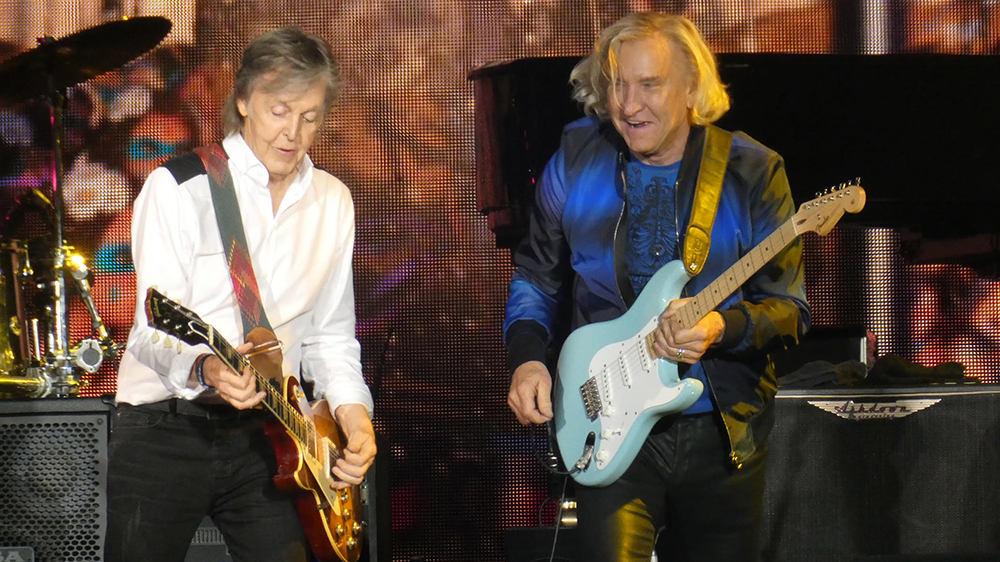 After Ringo left stage, there was another big surprise Paul sprang on us, another guest...Joe Walsh, of James Gang, and Eagle fame. Joe partook a triple guitar solo in the final tune, "The End", which is

t

he last piece on "Abbey Road". McCartney admitted a bit later to the fans, "We didn't have a clue what we were doing."

T

he fifty thousand fans wanted more, however, the hour was already late, the encore was preformed

,

and the show was

already

about three hours long

. T

he long and winding concert "Freshen Up" came to an incredible end. As a departing note Paul McCartney declared bidding "

F

arewell to you guys Farewell to America, and we'll see you next time."
Thank you Paul, thank Ringo,thank you incredible band, and we eagerly await your next concert! Unforgettable historical evening I will always remember.

"Peace and Love to ALL!"