Queuing up outside the 100 Club for Paul McCartney.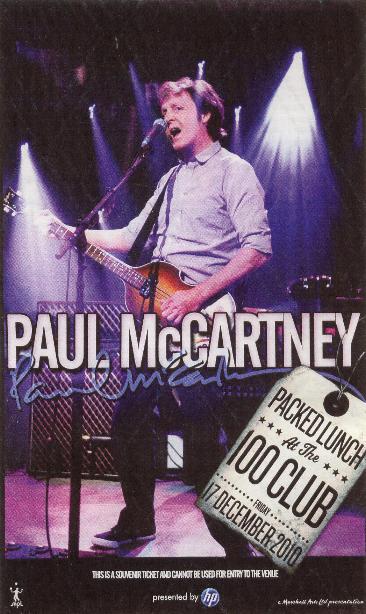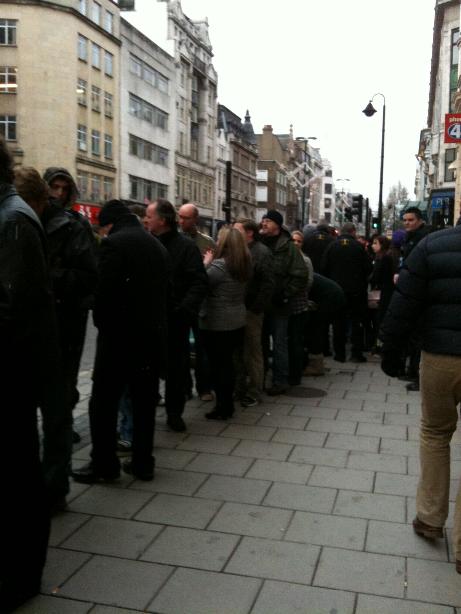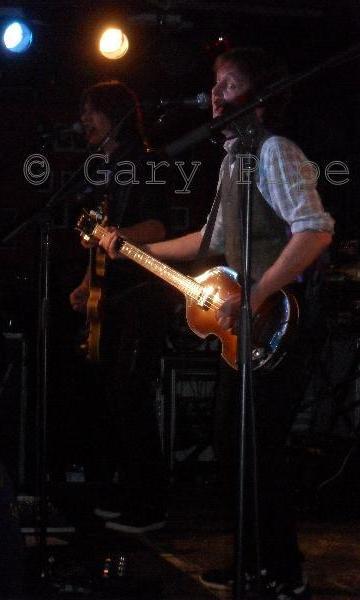 Dreaming of seeing Paul McCartney perform a mere three steps away from me. Not in a million years did I think this dream would actually become true only two days later. I was logging onto the Ticketmaster website on 15 December at 11 a.m. and my only thought was 'Why am I doing this anyway? It's nerve wrecking and I will never ever be so lucky to get tickets.' And at first it seemed that I was right because my first eight or so attempts did indeed fail. On the verge of giving up I decided to give it one more try before getting on with my work. And then it happened! It was like being struck by lightning. I got in and I was in the process of purchasing tickets. Just couldn't believe my luck.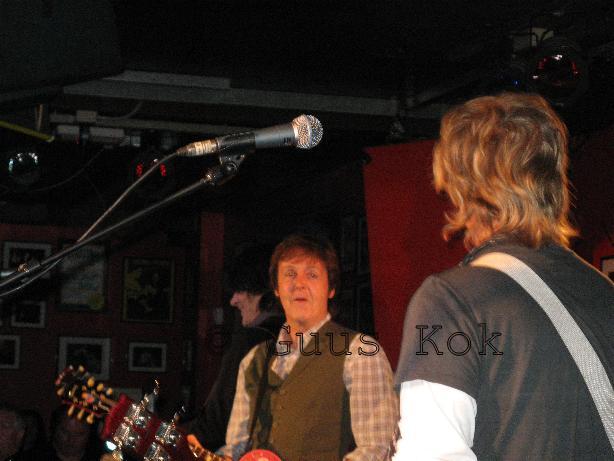 This is what it must feel like when winning the lottery. I will spare you the details of the awful process of actually securing the tickets, but I tell you it was all as if I was in a dream. When I had finally completed the process I realised that I had to tell Guus, who had also been trying to get tickets, and just sent me an email which read: disaster, can't get through, not even by phone. I called him up and I heard myself say with a shaky voice: 'I believe I just got us two tickets.'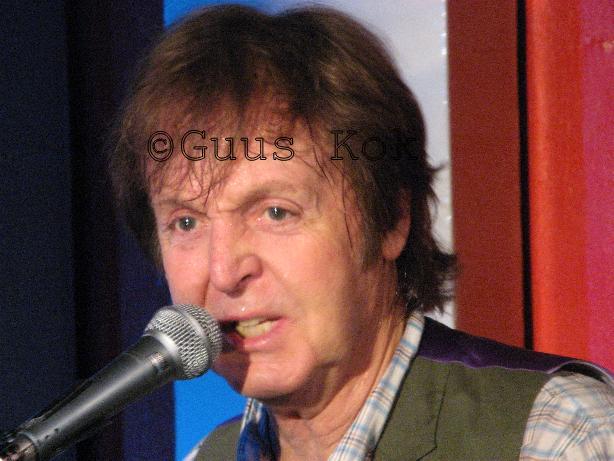 What happened next is that we had to organise all sorts of things like booking a trip to the other side of the Channel, where to stay the night, and so on. On Thursday  morning at 10 a.m. we were on our way towards Calais because we had decided to drive and go through the Channel Tunnel to London. We arrived at 3 p.m  at our B&B in Chelsfield, just outside London. There we decided to take train and tube to the centre of London and check out the 100 Club and if anything was going on at the moment. When we arrived there (it was cold and rainy) we could simply go inside and walk down the stairs (which reminded me of the Cavern of course). We came to a door that was closed but we knocked and a security guy came out and spoke to us. They were building up equipment, he was actually very kind and told us Macca would be on stage the next day at about 2 p.m. and that we have'd to stand in line in Oxford Street, that our credit cards would get swiped and we would get wristbands and so on. Then one of Paul's crew came out and he told us to leave. I don't think Paul or the band were there at the moment, but I would have loved to have a peek inside to see what was happening.
Next morning we arrived back at the 100 Club somewhere between 10 and 10.15 and people were already queuing up. So did we and that was the start of a very cold couple of hours. But we didn't mind, it would all be worth it, although we still found it hard to believe we were actually there! A lot of camera and TV crews showed up and interviewed people standing in line.

Checking our print out of the confirmation email, ID and credit card with which we had bought the tickets and sweeping of the cards started at 11.45, then suddenly things went fast. We were let in at about 12.15-12.30 and went straight up to the stage on the right where the piano was (of course the people who'd come in first people stood in front of the stage right before the spot where Paul would be standing). But we were so close to the piano that I could touch it. What struck me was that cameras were allowed. ('Where are the times we could ban cameras', Paul later remarked). People weren't even checked for recording equipment or whatever.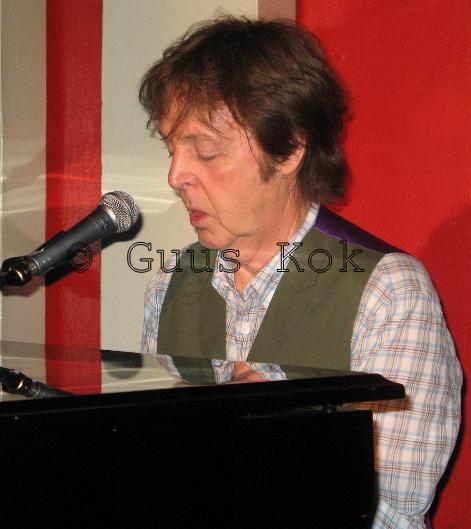 So we were in and thought we had to wait another 90 minutes or so, but at 1 p.m. things started to change. Roadies were getting ready with guitar in hand and so on. And because John Hammel also appeared, we knew it wouldn't be long now! And yes, there he was, just after 1 p.m. Paul climbed the stage, joked about 'getting stuck in traffic' and kicked off the show with 'Matchbox'. And we knew he was going to play the piano so we waited until we could take pics from him closeby. He was so close during those 'piano parts', we could actually see the sweat dripping off his nose!!! And he noticed us too. I was wearing a 'Liverpool City' T-shirt which seemed to intrigue him quite a bit and Guus was wearing his LIPA Oratorio sweat shirt. When he announced 'Don't Let The Sun Catch You Crying' he even spoke to us: when he was saying he'd do 'something else' now Guus confirmed that with a 'thumbs up' and a 'yes', and he responded to that. Of course, every time he looked at us we forgot to take pictures, so there's no pics of him looking straight into the camera. The show was absolutely incredible. And I was so amazed to stand right in front of him. We fully enjoyed 'I'm Looking Through You', 'And I Love Her', 'Calico Skies' and 'Don't Let The Sun Catch You Crying'. The show lasted for almost 2 hours. You can watch a lot of the setlist on YouTube (see our report on the 'news' section).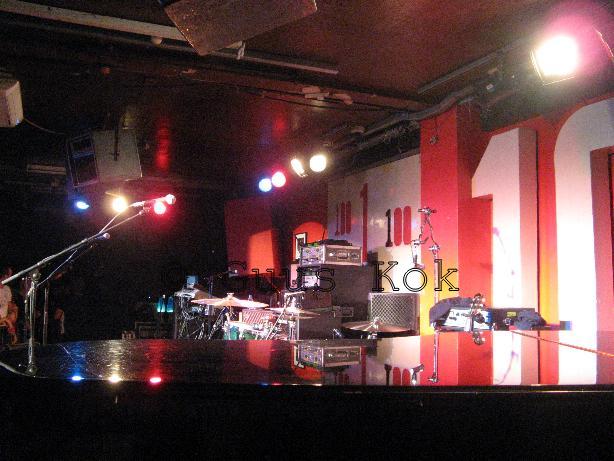 At 3 p.m. we were standing outside again, had a drink and then went off to the station, train, car and on our way to Folkestone again. Fortunately, all radio reports about snow, ice and traffic jams didn't affect us. We left Chelsfield at 5.30 p.m. and arrived in Utrecht (my hometown) at about 1.15 a.m.
Queuing up outside the 100 Club for Paul in the freezing cold, driving through the Netherlands, Belgium, France and the UK, using, buses, cars, trains. It was all worth it and I'd do it again tomorrow if I had the chance. Thanks Paul for a great show!
It was the craziest and most memorable 48 hours I've ever experienced.
Gabriëlla